Philips Hue Bridge v2
How do outdoor lights work
Get started with Philips Hue and control your lights from your smart phone or tablet, or even with your voice. The Philips Hue bridge is the heart of the system. It unlocks endless possibilities through the Philips Hue app.
In-Stock, Ready to Ship
Regular price
Sale price
$74.00
RRP $99.95
Unit price
per
The heart of your Philips Hue system

The Philips Hue bridge is all you need to set up your personal Philips Hue system. This is actually the brain of the operation that enables you to control all of your Philips Hue products via the Philips Hue app. Once you have installed the Philips Hue bridge and downloaded the Philips Hue app on your smart device, you can set your imagination free and build your very own system

Add up to 50 Philips Hue lights
Select the Philips Hue lights of your choice and connect them to your Philips Hue bridge. The bridge is powerful enough to handle up to 50 lights, so Hue-ify your whole house
Extend with Philips Hue accessories
In the Philips Hue system, you can also connect up to 12 accessories to enhance your connected lighting experience even further

Smart control, home and away
With the Philips Hue iOS and Android apps you can control your lights remotely wherever you are. Check if you have forgotten to switch your lights off before you left your home, and switch them on if you are working late.

Control with your voice
Philips Hue works with Amazon Alexa, Apple HomeKit and Google Home, powered by the Google Assistant, to allow you to control your lights with your voice. Turn your lights on and off. Dim to the desired brightness for a perfect ambiance. Even recall pre-set scenes, change colours and more - all without lifting a finger.

ZigBee technology
Philips Hue is based on ZigBee, a low-power and reliable technology to control your lights. New features and improvements are continuously added to the system. Updates to both software and firmware are done wirelessly and seamlessly, directly to your Philips Hue product
Features

- Simple setup
- Smart control
- Add up to 50 Philips hue lights
- Control with your voice
- Extend with Philips Hue accessories
- Mounting - wall or desktop
- Control with Hue App
Specifications

- Add up to 50 Bulbs and up to 10 accessories
- Frequency band - 2400-2483.5MHz
- Power Adapter - 00–240 V AC / 50–60Hz
- Output voltage: 5 V DC 600mA
- Standby power: 0.1 W max
- Power consumption - 250mA max
- Connects to your network via wireless: no
- Warranty: 2 Years
- Desktop or wall mounting
- Voice assistant support: Amazon Alexa Google Assistant, Apple HomeKit, Microsoft Cortana
Dimensions & Weight

Height: 26 mm

Width: 90.6 mm

Depth: 90.6 mm

Weight: 280 g
Whats in the box

1x Hue Bridge
1x Power adaptor
1x Network cable
Part number: 8719514342569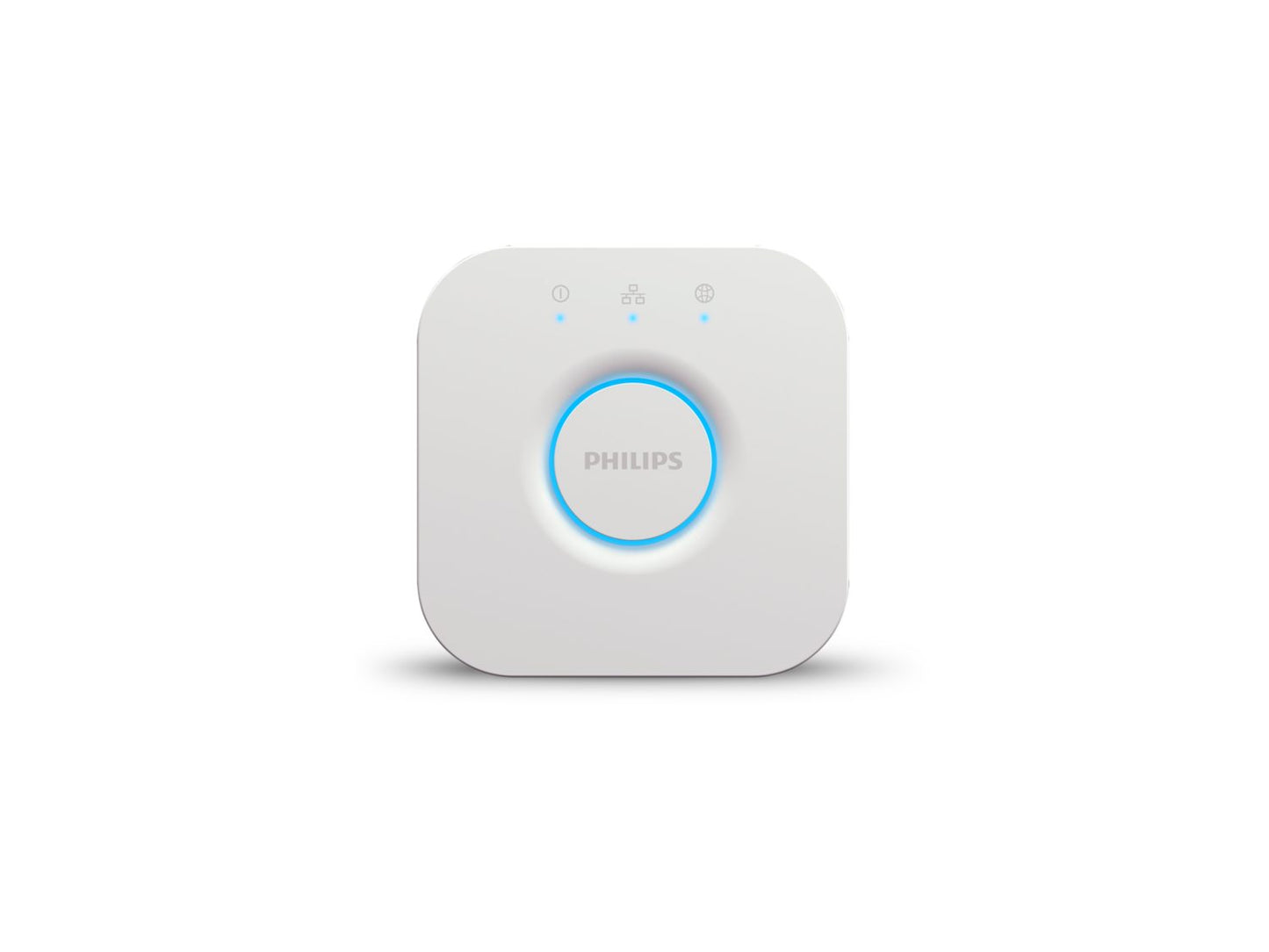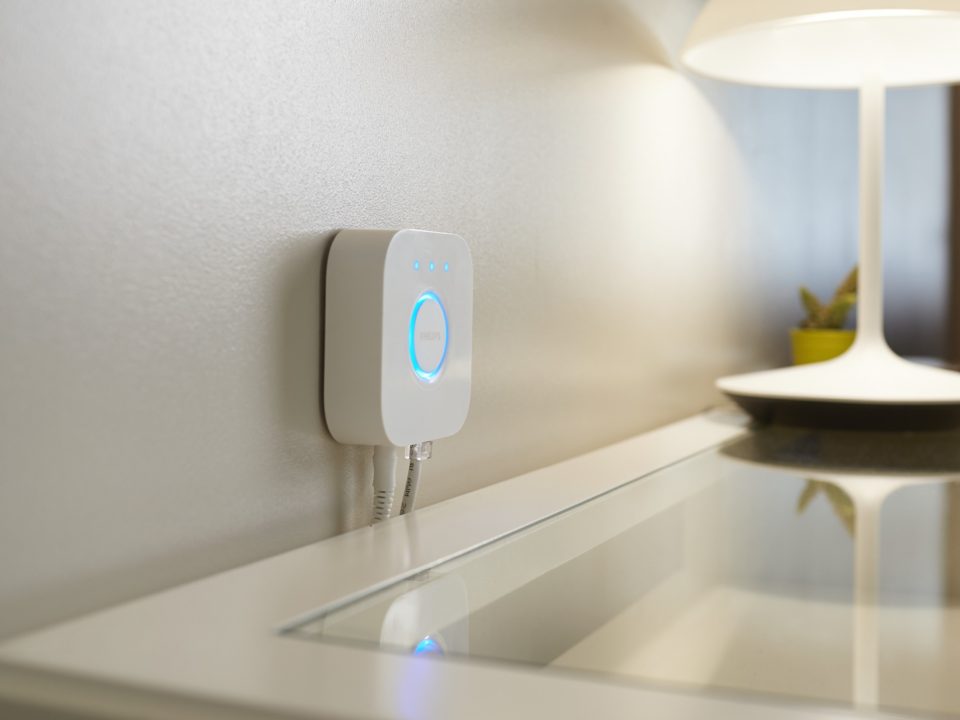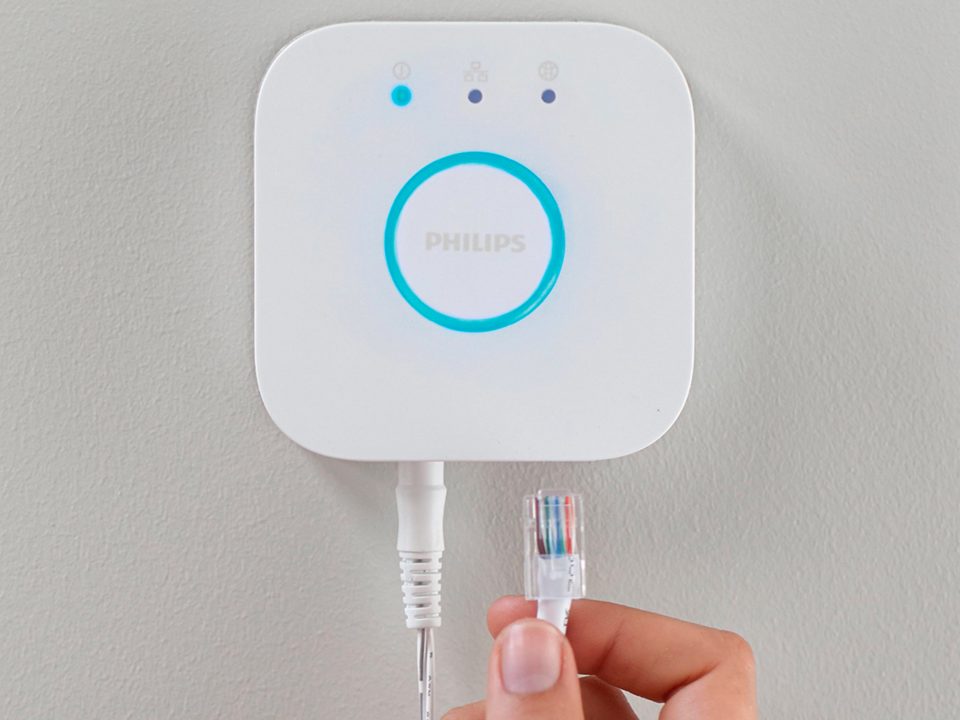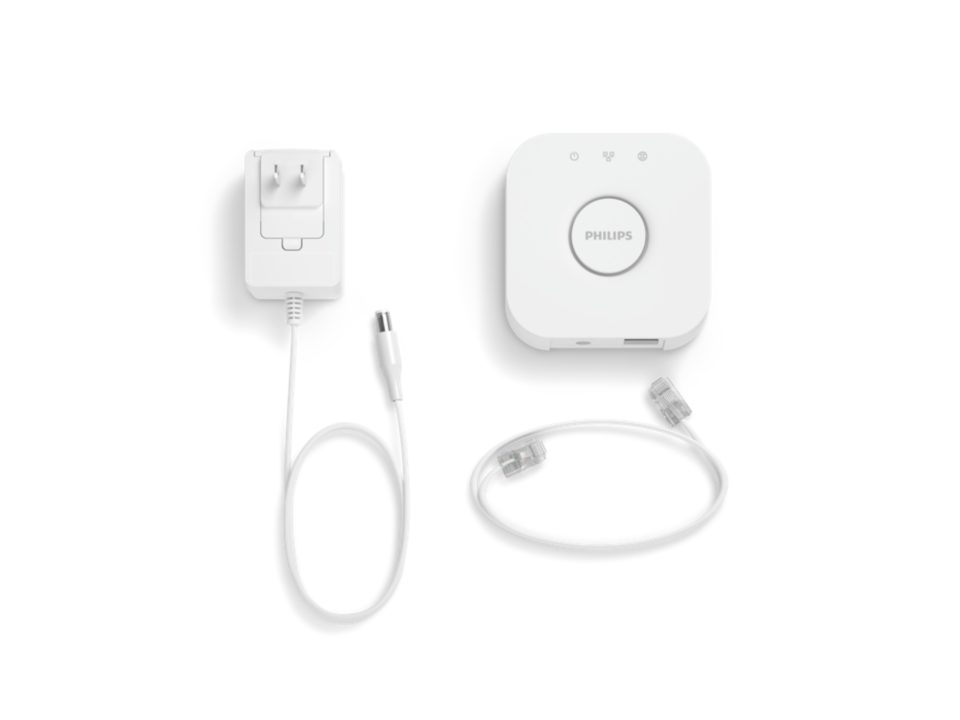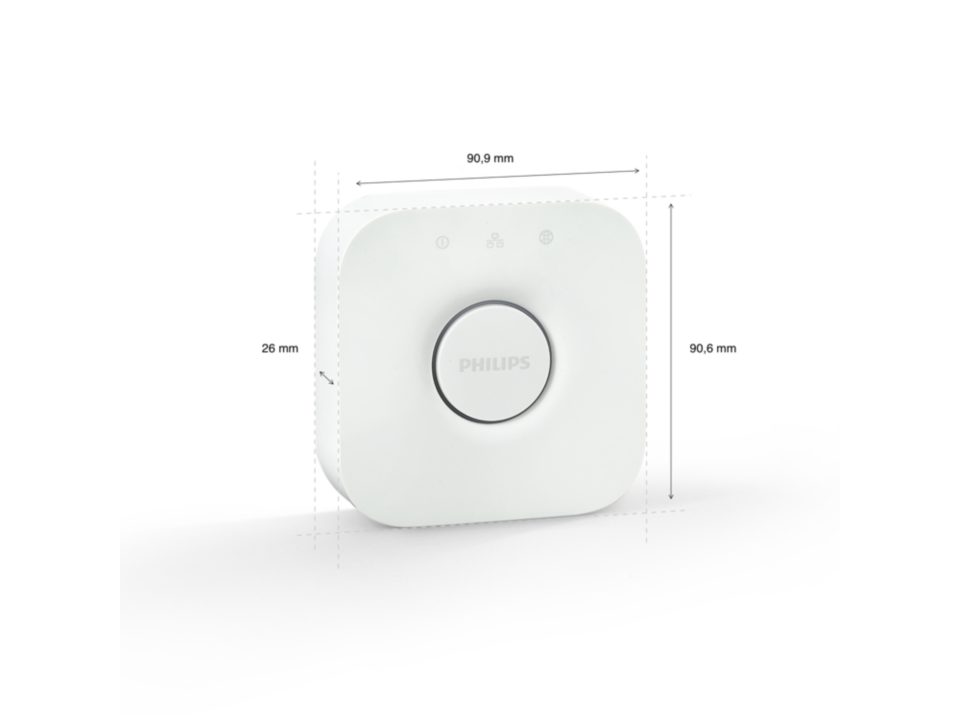 How to connect Hue Outdoor lights
Connecting the Philips Hue 24v outdoor lights is a simple DIY task that is easy, safe and has great results. 
Stock and availability
You can shop with confidence as we are proud to hold large stock levels.
To make things simple if you can add it to cart, it means we have it in our warehouse can ship it to you immediately.
Please note that some items may ship via road rather than air, if this is the case it will be listed on the product description above.
Our Promise
Expert 5 Star Service for Hue

If your looking for advice on Philips Hue you can speak to one of our experts, all of which have hue installed in their homes and have tested all of the range. Our reviews prove why we are the place to go for your smart lighting needs.

Express Delivery

Its important to us that your order arrives as quickly as possible. You can shop with confidence that if you can add it to cart, we have in our warehouse and we will use only the best couriers to get it to you as quickly as possible.

Genuine Australian Stock

We understand that you want to get your lighting project finished as quickly as possible so we hold large / bulk quantities of genuine Australian stock in our own warehouse to make sure you can complete whatever you want without any delay.