Philips HUE GO V2 Portable Light - Bluetooth
White & Colour Ambiance
How do outdoor lights work
Take smart light with you with the portable Hue Go. From a splash of colour to a mood-setting centrepiece, the Hue Go lets you set the perfect ambiance. Works as a standalone light or as part of your smart lighting system with the Hue Bridge
In-Stock, Ready to Ship
Regular price
Sale price
$145.00
FREE Delivery

RRP $164.95
Unit price
per
Control up to 10 lights with the Bluetooth app

With the Hue Bluetooth app, you can control your Hue smart lights in a single room of your home. Add up to 10 smart lights and control them all with just the touch of a button on your mobile device.
Control lights with your voice*
Philips Hue works with Amazon Alexa and the Google Assistant when paired with a compatible Google Nest or Amazon Echo device. Simple voice commands allow you to control multiple lights in a room or just a single lamp.
Create a personalized experience with colourful smart light
Transform your home with over 16 million colours, instantly creating the right atmosphere for any event. With the touch of a button, you can set a festive mood for a party, turn your living room into a movie theatre, enhance your home décor with colour accents, and much more.
Set the right mood with warm to cool white light
These bulbs and light fixtures offer different shades of warm to cool white light. With complete dimmability from bright to low nightlights, you can tune your lights to the perfect shade and brightness of light for your daily needs.
Get the perfect light recipes for your daily activities
Make your day easier and more pleasant with four pre-set light recipes handcrafted especially for your daily tasks: Energize, Concentrate, Read, and Relax. The two cool-toned scenes, Energize and Concentrate, help you get going in the morning or keep your focus, while the warmer scenes of Read and Relax help support comfortable reading or calm a busy mind.
Unlock full suite of smart light features with Hue Bridge
Add a Hue Bridge (sold separately) to your smart lights to experience the full suite of Philips Hue features. With a Hue Bridge, you can add up to 50 smart lights to control throughout your home. Create routines to automate your entire smart home lighting setup. Control your lights while away from home or add accessories such as motion sensors and smart switches.
Sync your media to smart lights
With the Hue Sync app and the Hue Bridge, you can bring your entertainment to new heights. Surround yourself with Philips Hue lights and turn on your movie, music, or game ∙ and then watch your lights mirror the colors and rhythm.
On-product control
Change your light settings directly with the button on the back of the Hue Go. Simple press sequences allow you to cycle through different light settings or use the preset dynamic lighting effects, including the specially designed light recipes Read, Relax, Concentrate, and Energize.
A truly portable smart light
The Hue Go portable smart light can truly go wherever you want, thanks to its built-in, rechargeable battery. Bring this lamp along with you as you travel, use it as the centrepiece of a romantic dinner, or take it outdoors to enhance the atmosphere of your summer parties. Enjoy from 2.5 hours of brilliant smart lighting up to 18 hours when using the cosy candle light effect.
Dynamic, natural lighting effects
Amp up the ambiance of special moments with living light. Use dynamic light effects, such as Cosy Candle, Sunday Coffee, Meditation, Enchanted Forest, and Night Adventure to create the perfect mood in any situation.
Smart lights to wake you up and help you sleep
Connect your Hue Go to the Hue Bridge and let your lights mimic the sunrise in the morning with the Wake up routine, which slowly brightens your lights at a pre-set time to help you start your day feeling calm and refreshed. In the evening, set a Go to sleep routine, which gradually dims warm white lights and helps you prepare for a good night's sleep.
Features

- Integrated LED and battery
- Bluetooth control via app
- Control with app or voice using a smart speaker
- Add Hue bridge to unlock more
- Battery Life - 3-24 Hours depending on brightness setting
- 16 million colour choices
- Great as a night light
Specifications

- Lifetime: up to 20,000 h
- Light source equivalent: to traditional bulb of 43 W
- Total lumen output fixture: 520 lm
- Light color: 2000-6500 Hue White Color Ambiance
- Mains power: Yes but includes battery
- Fixture dimmable: Yes
IP code: IP20

Dimensions & Weight

Height: 7.9 cm

Width: 15 cm

Depth: 15 cm

Weight: 0.65 kg
Whats in the box

1x Hue Go Portable LED Light
1x Charger / Power supply
Part number: 8718696174043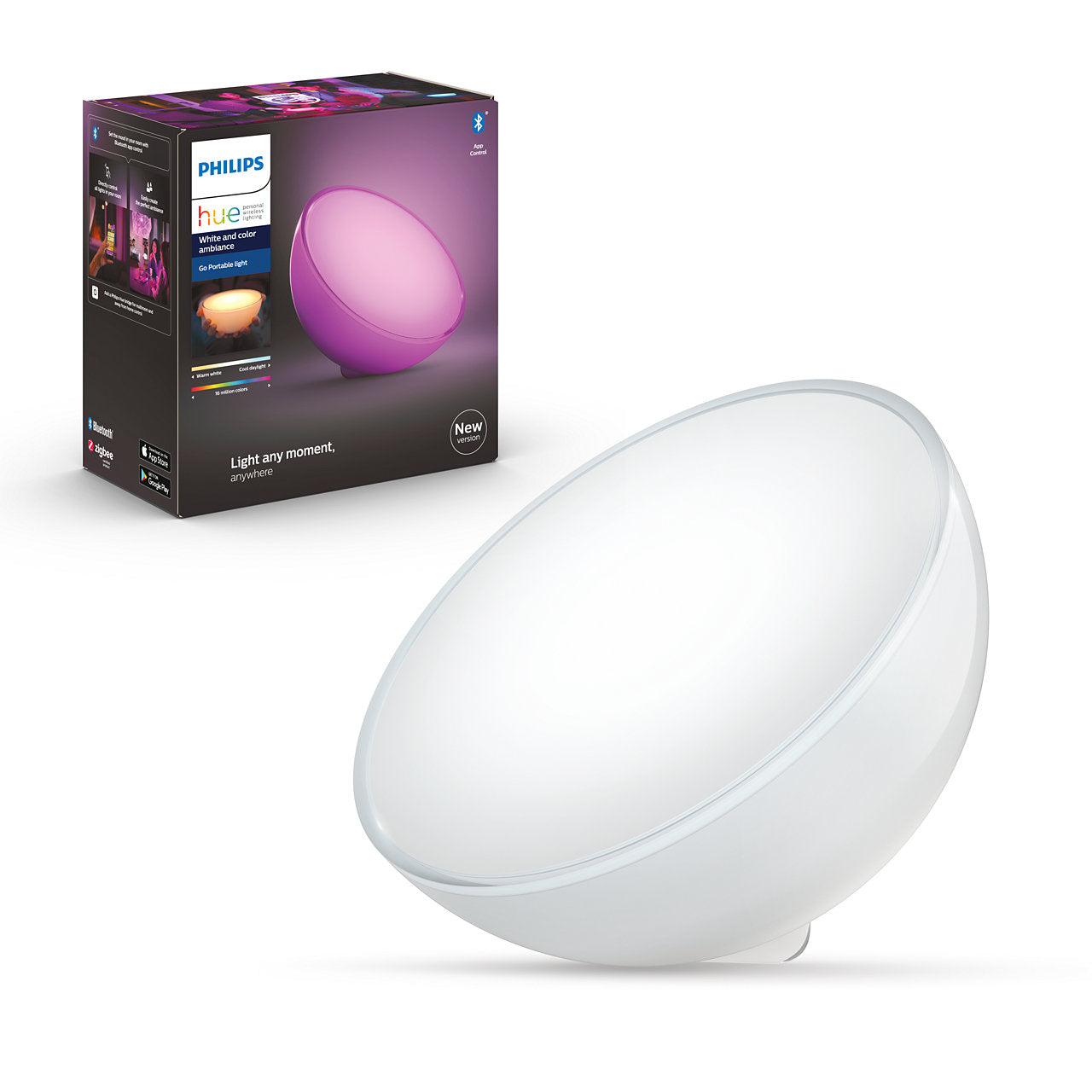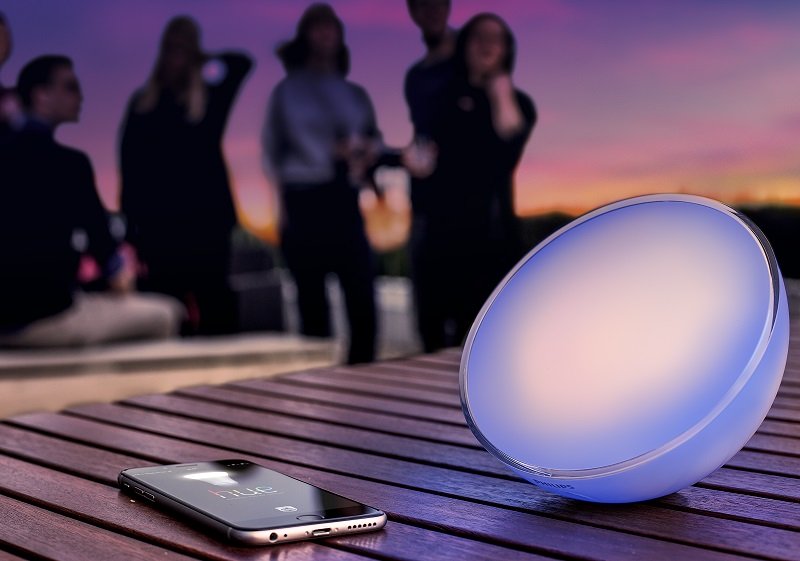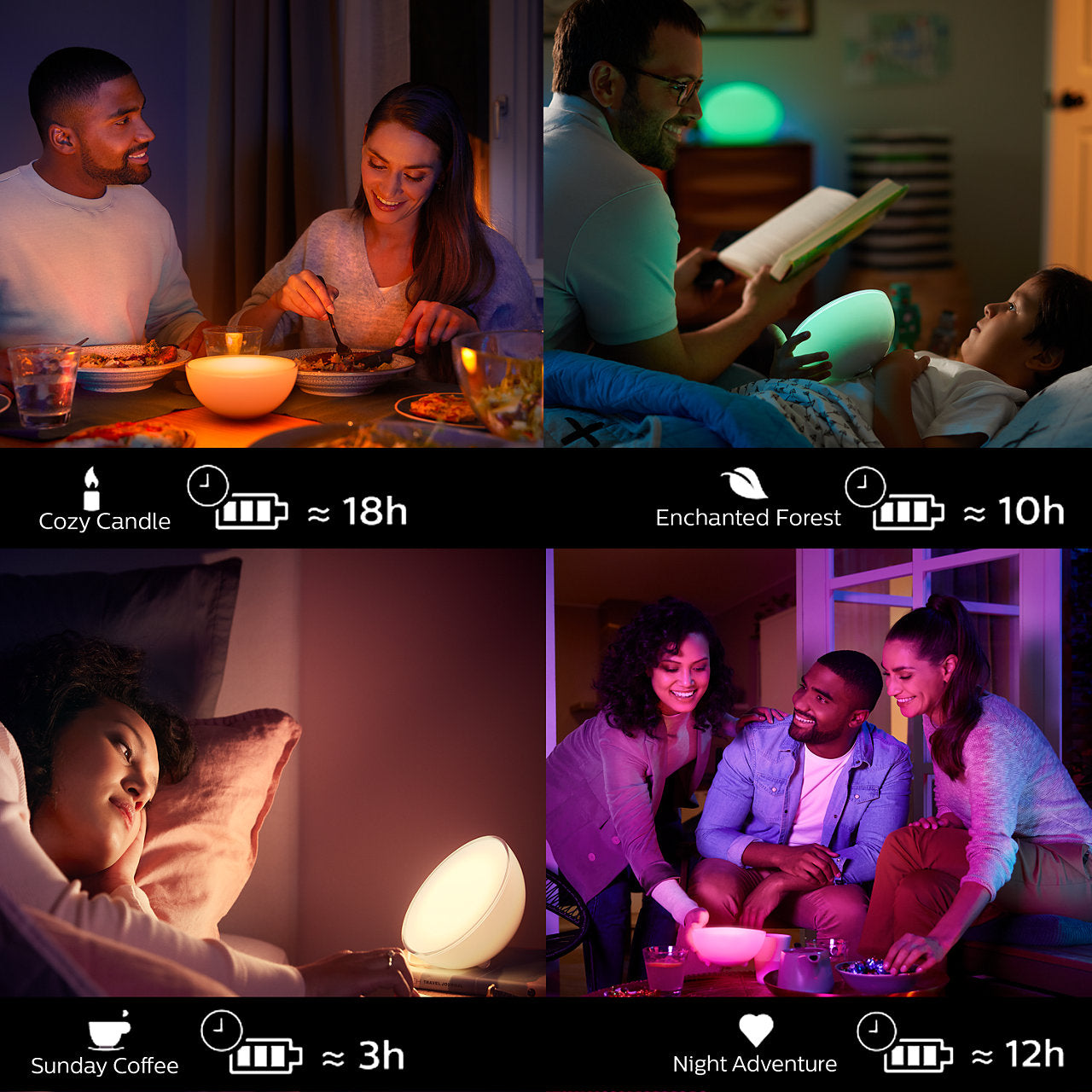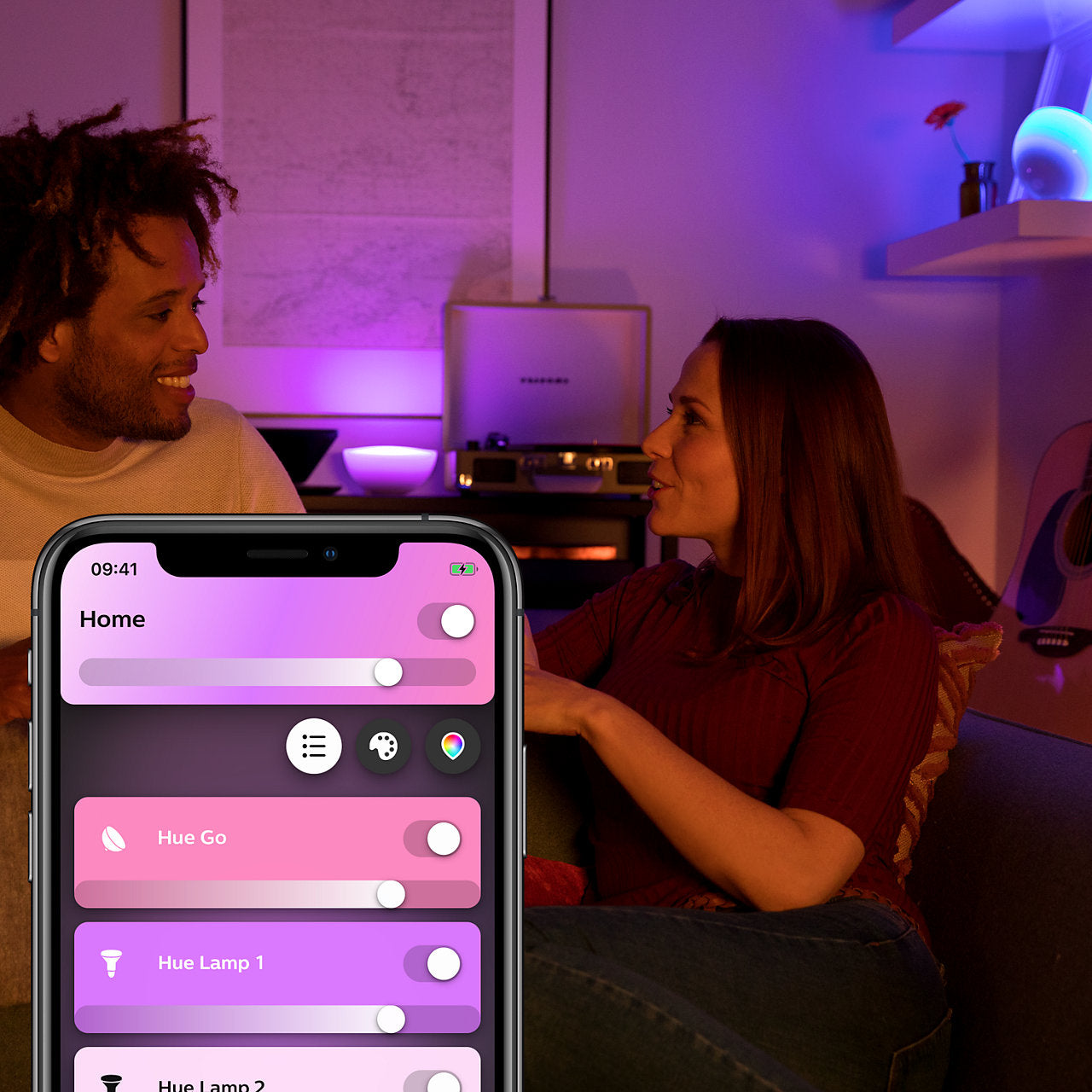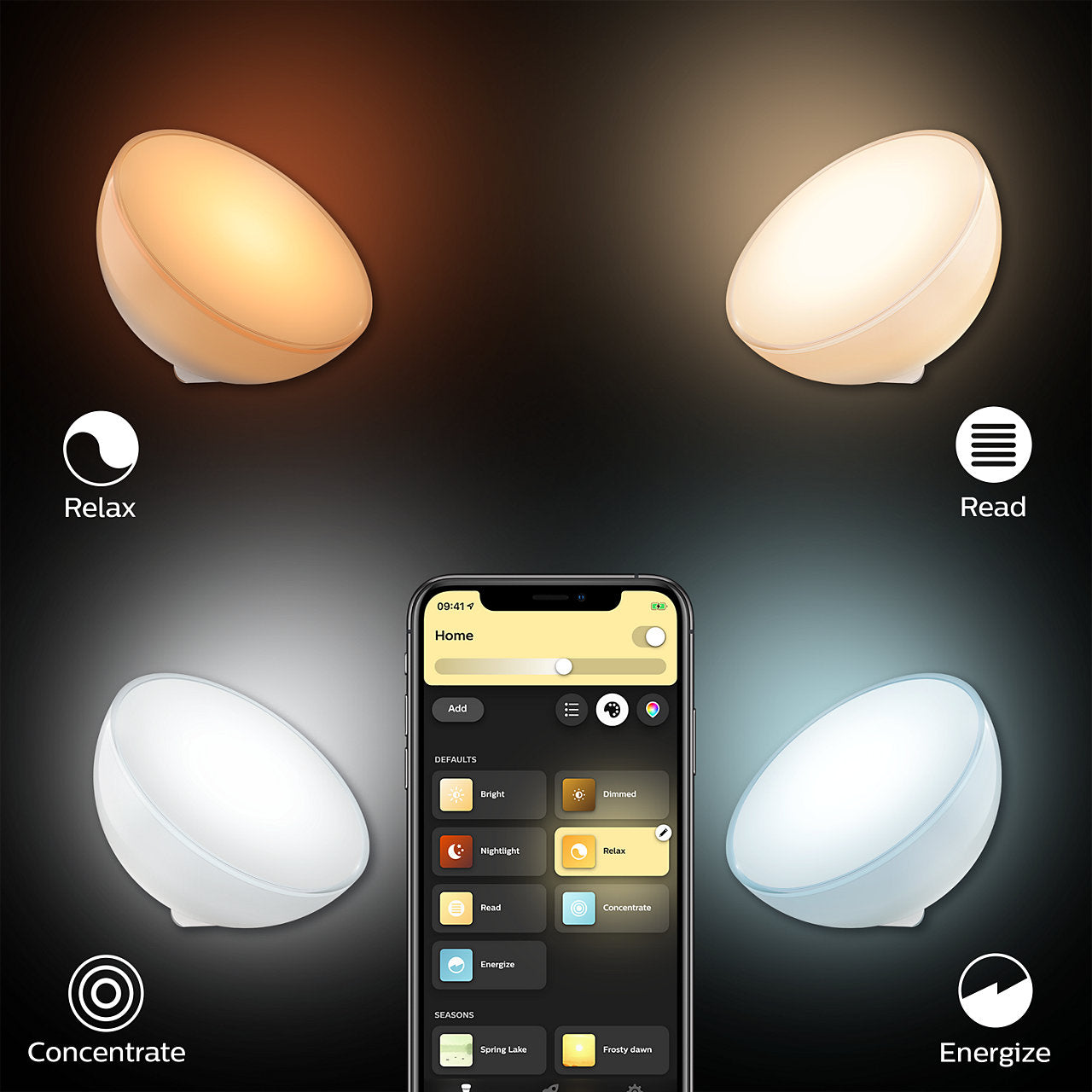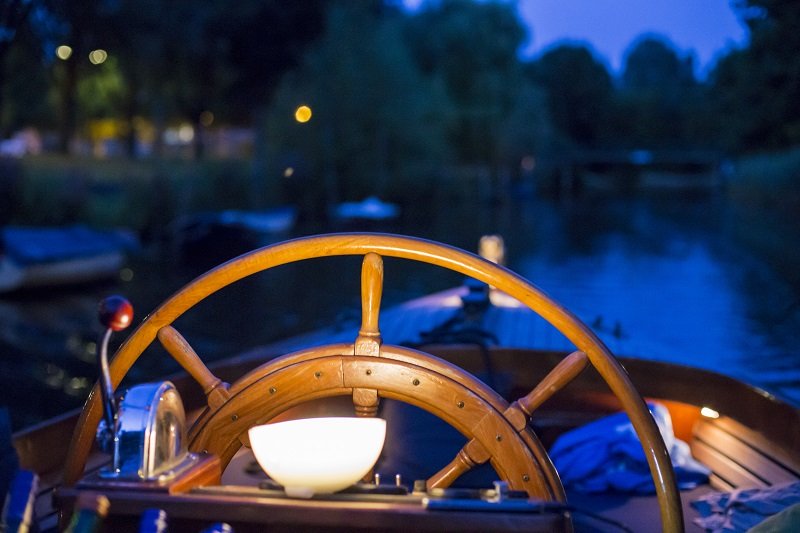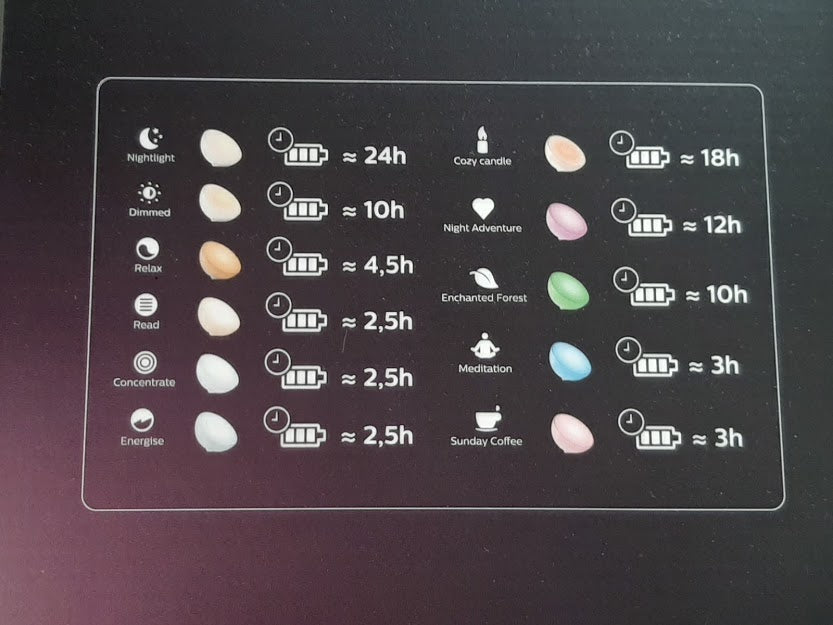 How to connect Hue Outdoor lights
Connecting the Philips Hue 24v outdoor lights is a simple DIY task that is easy, safe and has great results. 
Stock and availability
You can shop with confidence as we are proud to hold large stock levels.
To make things simple if you can add it to cart, it means we have it in our warehouse can ship it to you immediately.
Please note that some items may ship via road rather than air, if this is the case it will be listed on the product description above.
Our Promise
Expert 5 Star Service for Hue

If your looking for advice on Philips Hue you can speak to one of our experts, all of which have hue installed in their homes and have tested all of the range. Our reviews prove why we are the place to go for your smart lighting needs.

Express Delivery

Its important to us that your order arrives as quickly as possible. You can shop with confidence that if you can add it to cart, we have in our warehouse and we will use only the best couriers to get it to you as quickly as possible.

Genuine Australian Stock

We understand that you want to get your lighting project finished as quickly as possible so we hold large / bulk quantities of genuine Australian stock in our own warehouse to make sure you can complete whatever you want without any delay.