Philips Hue MR16 Globe - White Ambiance
White Ambiance
How do outdoor lights work
Upgrade your conventional spots with Hue MR16. Featuring a 12 V, bi-pin design suitable for most existing fittings, this MR16 bulb enables you to bring warm-to-cool white smart light to every corner of your home. Compatible with most transformers.
400 Lumens
Bluetooth Enabled
- ±10-year lifespan -Instant wireless dimming - Bluetooth and Hue Bridge compatible - Warm-to-cool white light
In-Stock, Ready to Ship
Regular price
Sale price
$57.95
RRP $59.95
Unit price
per
Decorate your home with light
Get the ultimate in interior design: instant dimming and rich, colourful light that transforms your home in seconds. Dim down low to create an inviting atmosphere or use splashes of colour to enhance the experience
The right light for every moment
Make mornings your favourite part of the day with cool, bright light. Recharge after work with soft, glowing tones. For every moment of the day, smart light is there to support you.
Control your way
Use the Philips Hue app, your voice or smart accessories to control your setup.
Manage your set-up with the app
Turn lights on and off, dim and brighten the room, set scenes and more — all in the Philips Hue app.
Use smart accessories
Philips Hue bulbs work seamlessly with smart accessories, such as the Hue dimmer switch or the Hue smart button.
Go hands-free with voice
Simple voice commands allow you to control your bulbs with Amazon Alexa, Google Assistant or Siri.
Works out of the box
It's as simple as screwing in a light bulb – literally. Once in your fixture, our smart LED bulbs can dim, brighten and set the mood instantly.
Specifications

- Lumen output at 4000K: 400 lumen
- Bulb technology: LED
- Color temperature: 2200-6500K
- Diameter: 50 mm
- Fitting: GU5.3
- Form factor: MR16
- Input voltage: 12V AC electronic
- Lifetime: 25,000 h
- Light output: Warm to cool white light
- Lumen output: 400 lm
- Max. operation power: 5.1 W
- Max. standby power: 0.5 W
- Number of switching cycles: 50,000
- Rated lifetime: 25,000 h
- Software upgradable: Yes
- Start up: Instant 100% light output
- Communication protocol: Bluetooth and Zigbee
- Deep dimmable: Yes
- Software upgradable: When connected to Hue Bridge
- Warranty: 2 year(s)
- Compatible with most transformers.
Dimensions & Weight

Height: 49 mm

Width: 50 mm

Depth: 50 mm

Weight: 47 g
Whats in the box

1x Mr16 White Ambiance Globe
Part number: 8719514491465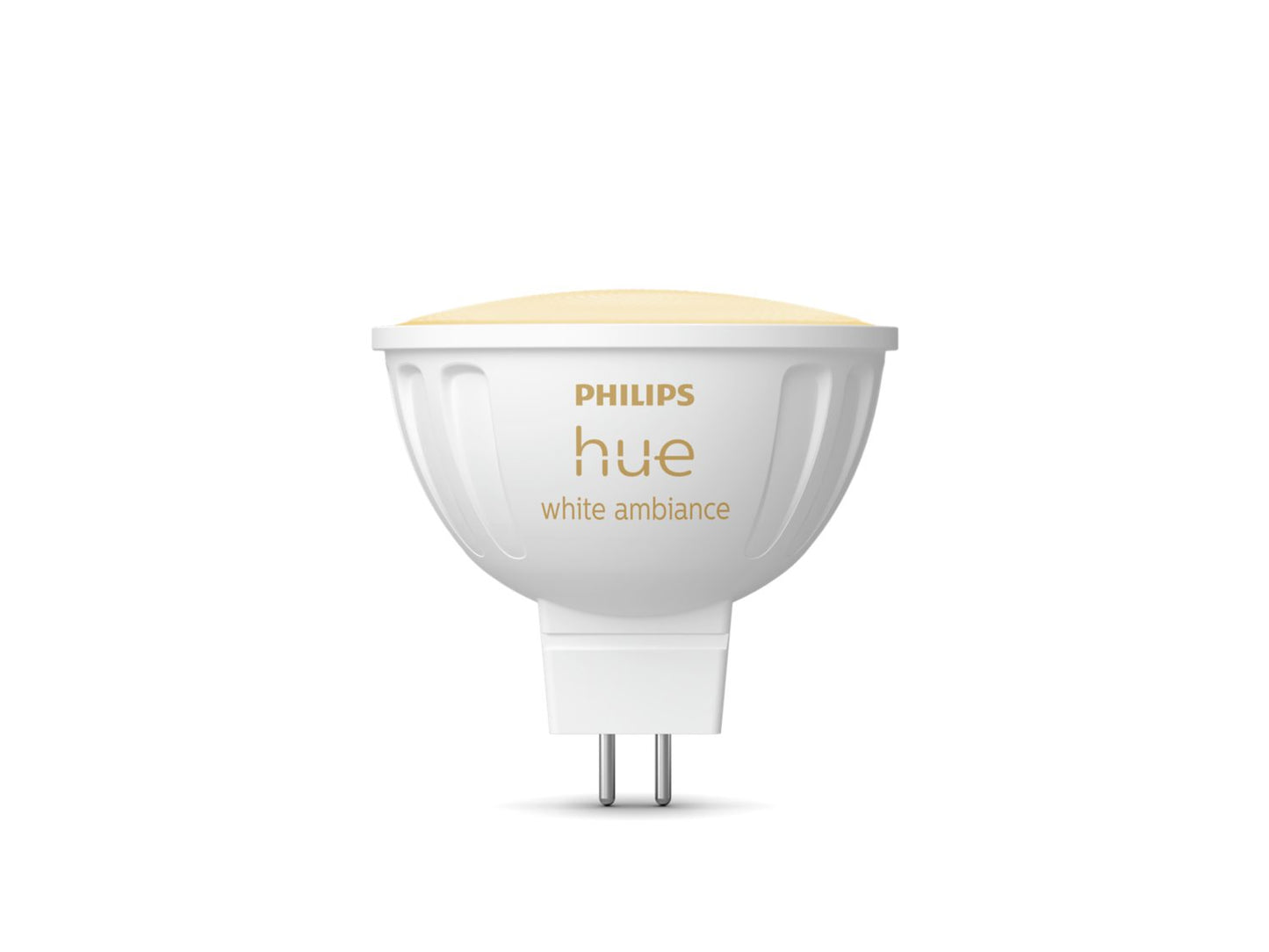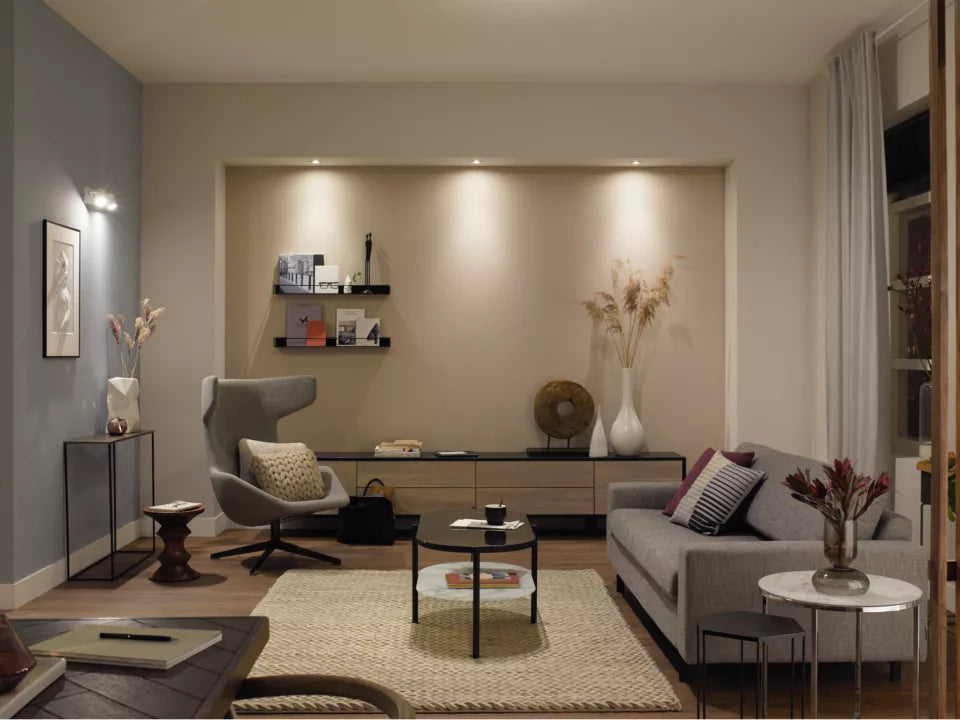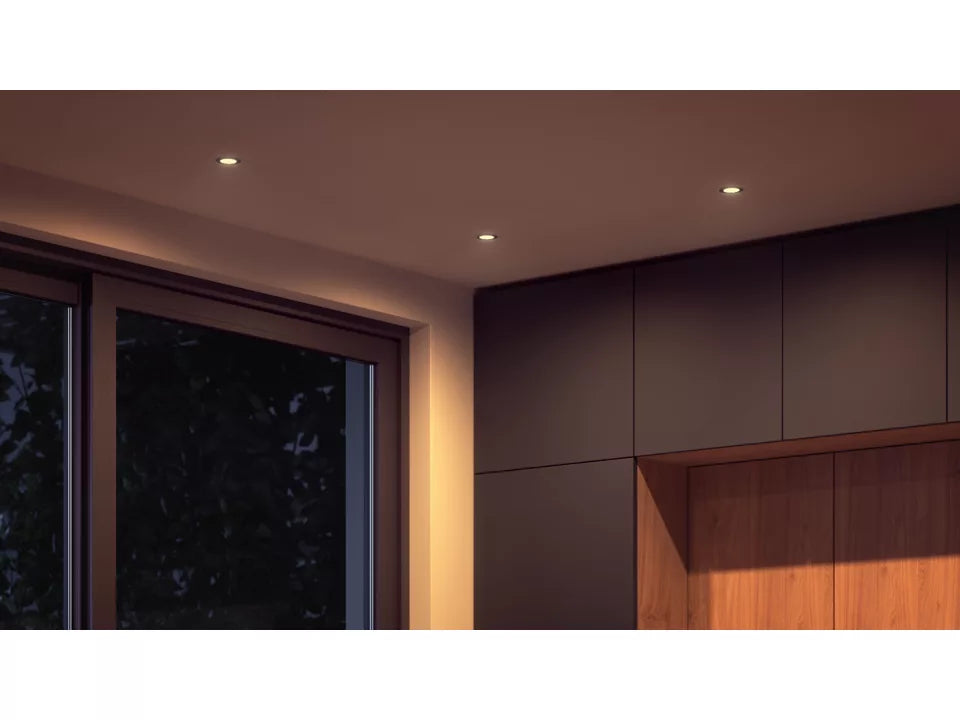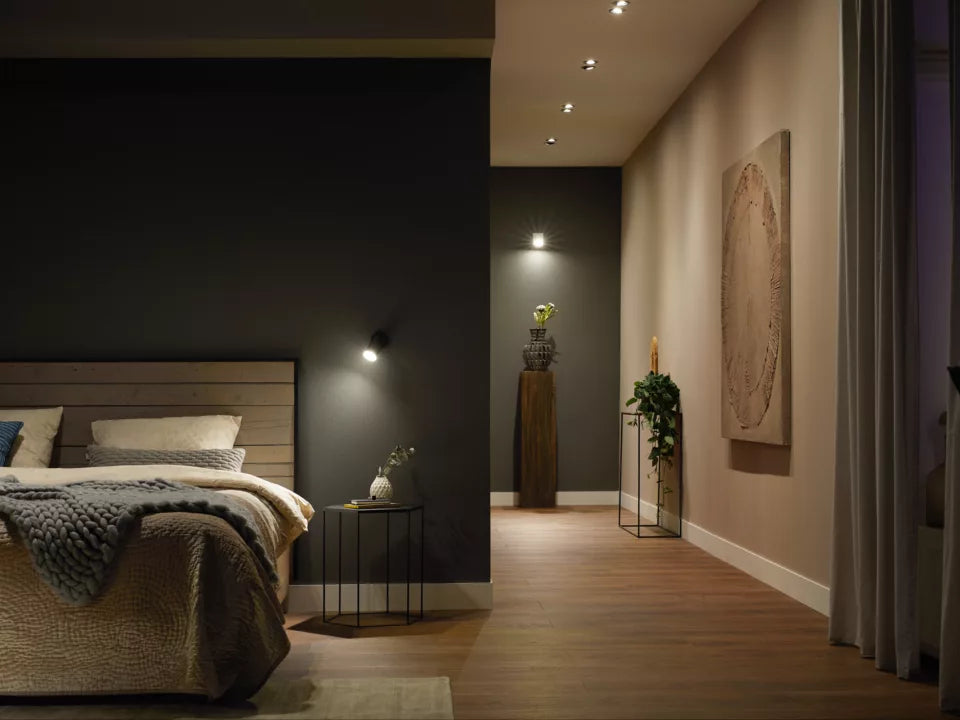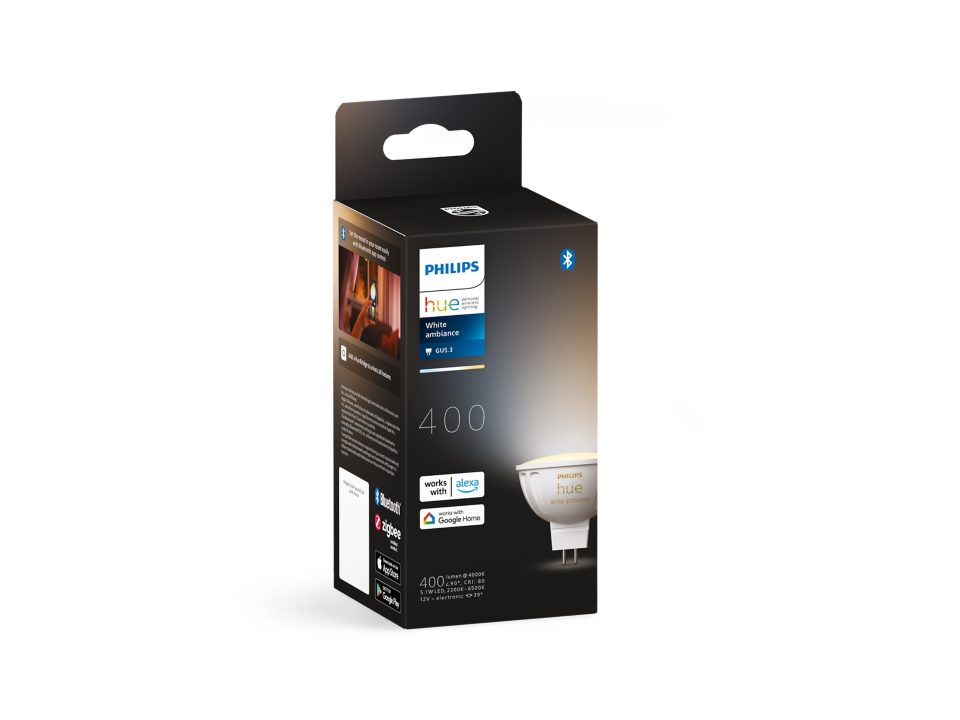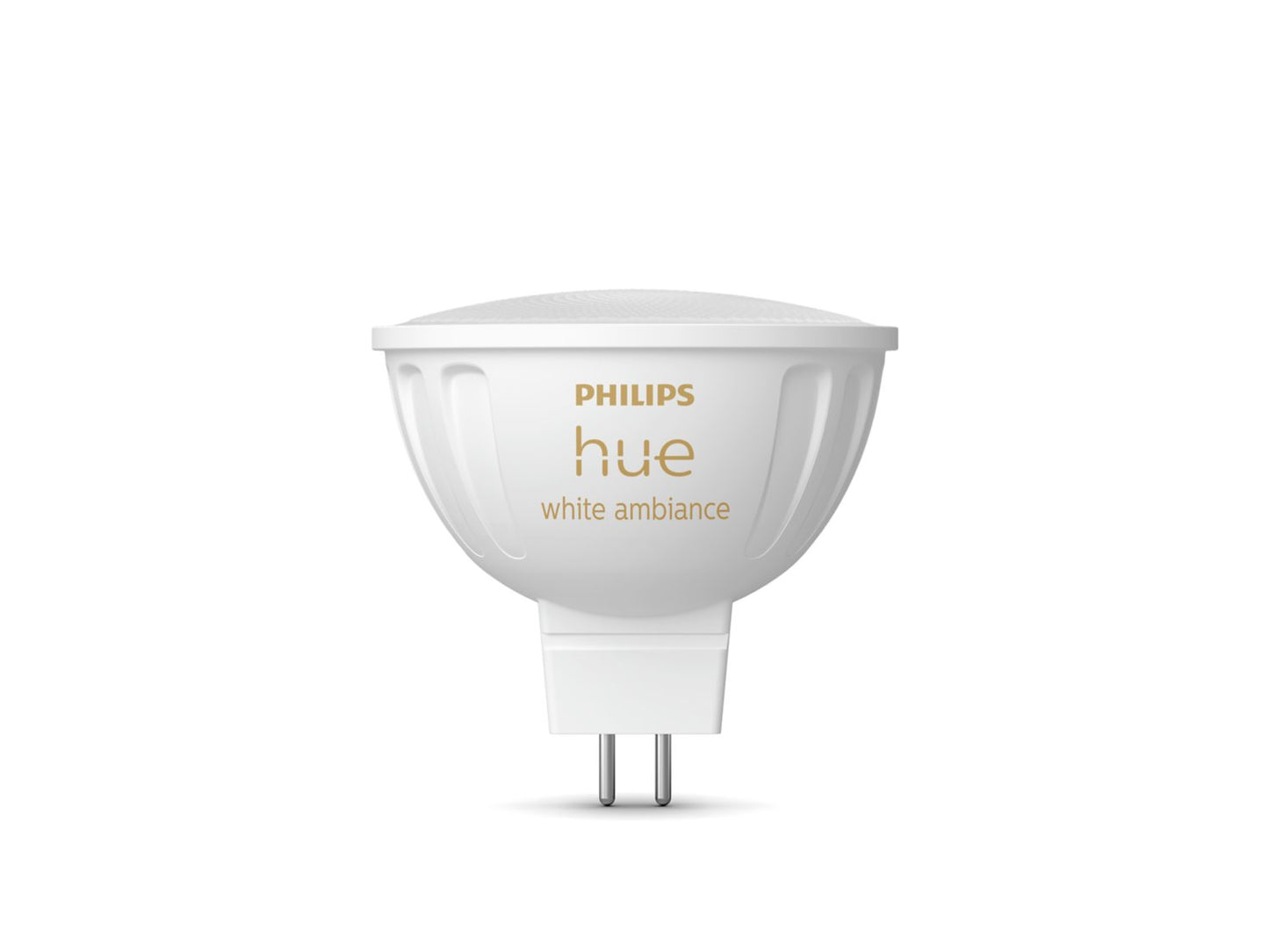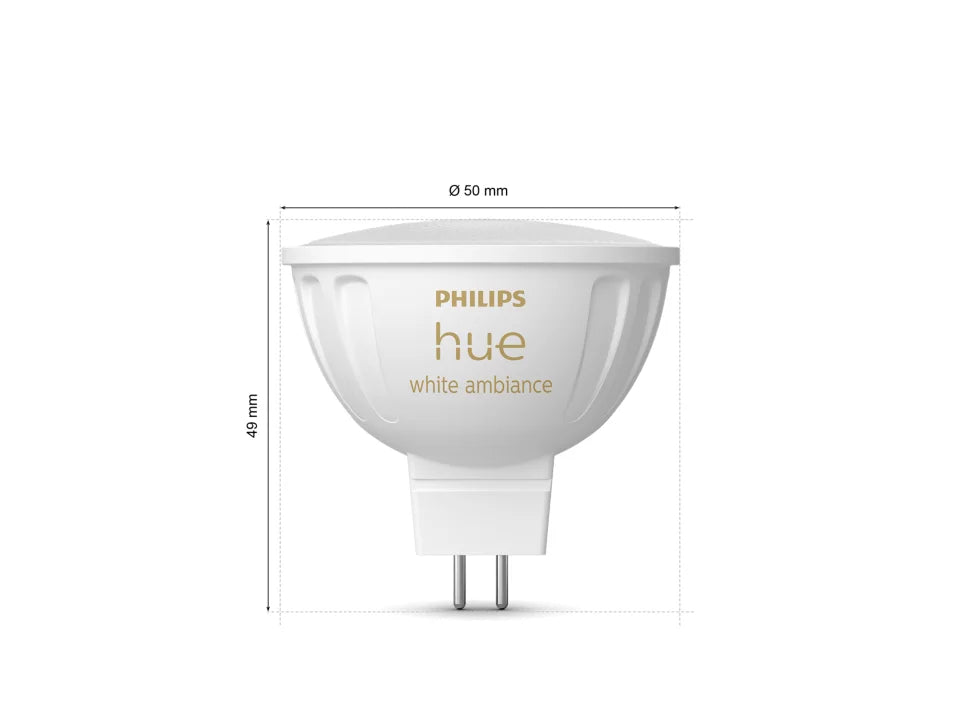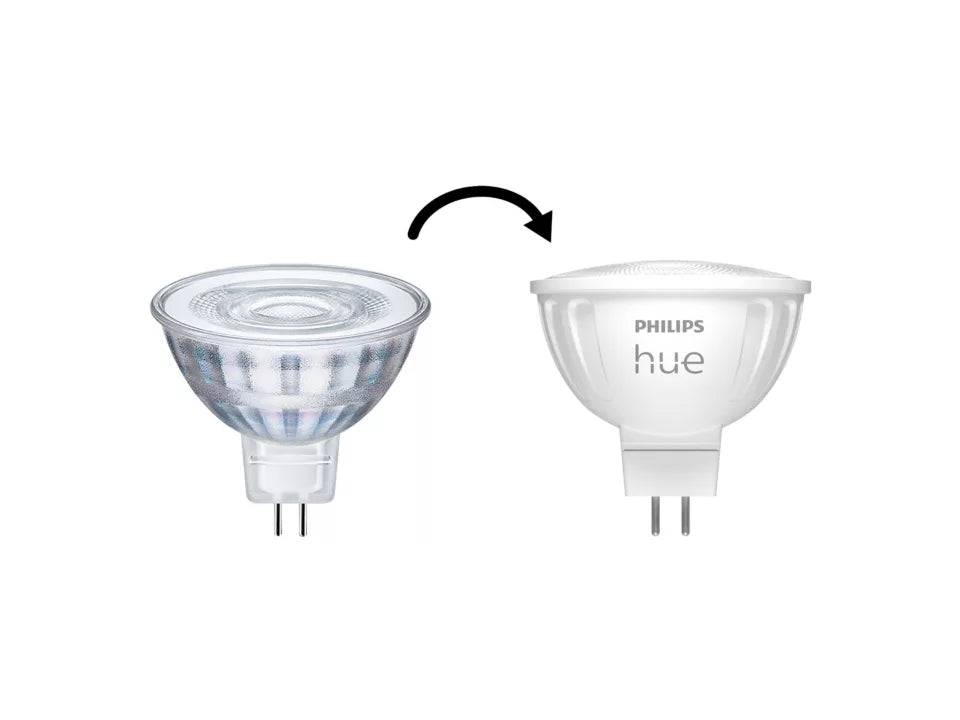 How to connect Hue Outdoor lights
Connecting the Philips Hue 24v outdoor lights is a simple DIY task that is easy, safe and has great results. 
Stock and availability
You can shop with confidence as we are proud to hold large stock levels.
To make things simple if you can add it to cart, it means we have it in our warehouse can ship it to you immediately.
Please note that some items may ship via road rather than air, if this is the case it will be listed on the product description above.
Our Promise
Expert 5 Star Service for Hue

If your looking for advice on Philips Hue you can speak to one of our experts, all of which have hue installed in their homes and have tested all of the range. Our reviews prove why we are the place to go for your smart lighting needs.

Express Delivery

Its important to us that your order arrives as quickly as possible. You can shop with confidence that if you can add it to cart, we have in our warehouse and we will use only the best couriers to get it to you as quickly as possible.

Genuine Australian Stock

We understand that you want to get your lighting project finished as quickly as possible so we hold large / bulk quantities of genuine Australian stock in our own warehouse to make sure you can complete whatever you want without any delay.