Philips Hue Starter Kit - White & Colour - B22 Bayonet
White & Colour Ambiance
How do outdoor lights work
Add ambient color to any room with the Philips Hue White and color ambiance starter kit. The kit includes 3 color smart bulbs and a Hue Bridge, which provides full control of the lights, access to the Hue app, and endless features.
1055 Lumens
Bluetooth Enabled
In-Stock, Ready to Ship
Regular price
Sale price
$269.00
FREE Delivery

RRP $289.95
Unit price
per
Create a personalized experience with colorful smart light
Transform your home with over 16 million colors, instantly creating the right atmosphere for any event. With the touch of a button, you can set a festive mood for a party, turn your living room into a movie theater, enhance your home decor with color accents, and much more.
Get in the mood with warm to cool white smart lights
Use over 50,000 shades of warm to cool white light to put you in the mood to work, play, or relax ∙ no matter what time of day it is. Start your morning off on the right foot with cool, energizing bright white light, or settle down for the night with golden tones.
Play with smart color lights
There╞s no limit with Philips Hue: with over 16 million colors, you can transform your home into the perfect party venue, bring a bedtime story to life, and much more. Use preset, colored light scenes to evoke the feeling of summer any time you'd like, or use your own photo to relive a special memory.
Sync movies, TV shows, music, and games to smart lights
Bring your entertainment to new heights by syncing the action on the screen or the beat of your music to your smart lights.* Choose the way you'd like to sync your lights to your movie, music (including with our Spotify integration!), TV show, or game and watch as the color-capable lights in your Entertainment area react. *Hue Bridge required
Smart lights to wake you up and help you sleep
Set your lights to slowly brighten in the morning at a preset time to mimic sunrise and help you start your day feeling calm and refreshed. In the evening, the relaxing warm white lights will help you unwind, relax and prepare your body for a good night's sleep.
Smart home automation hub: Hue Bridge
The Hue Bridge is an essential component to a personal Philips Hue smart lighting system. It is the brains of the operation, communicating with both your smart light bulbs and the Hue app to ensure that everything works together. It also enables smart home automation features like scheduling routines and timers
Control lights with your voice
When connected to the Hue Bridge, you can pair your lights with Alexa, Apple HomeKit, and the Google Assistant and control your lights using just your voice. Simple voice commands let you turn your lights on and off, dim or brighten your lights, and even set a light scene.
Features

- White and colored light
- Smart control
- Control with app or voice through a smart speaker
- Hue Bridge included, everything you need to get started
Specifications

The Bridge
- Frequency band: 2400-2483.5 MHz
- Height: 26 mm
- Max. number of accessories: 12
- Max. number of bulbs: 50
- Power consumption: 250mA max

The globes
- Diameter: 60 mm
- Fitting: B22
- Form factor: A60
- Height: 109 mm
- Input voltage: 220V-240V
- Lifetime: 25,000 h
- Light output: 16 million colors
- Lumen output: 806 lm @ 2700K 1055 lm @ 4000K
- Max. operation power: 9 W
- Max. standby power: 0.5 W
- Number of switching cycles: 50,000
- Software upgradable: when connected to Bluetooth App or Hue Bridge
- Start up: Instant 100% light output
- Wattage: 11 W
- Wattage equivalent: 75 W
- Communication protocol: Bluetooth and Zigbee
Dimensions & Weight

Height: 176 mm

Width: 219 mm

Depth: 140 mm

Weight: 0.92 kg
Whats in the box

1x Philips Hue Bridge
3x Philips Hue Colour Bayonet Globes
1x Ethernet Cable
1x Power adaptor
Part number: 8719514393691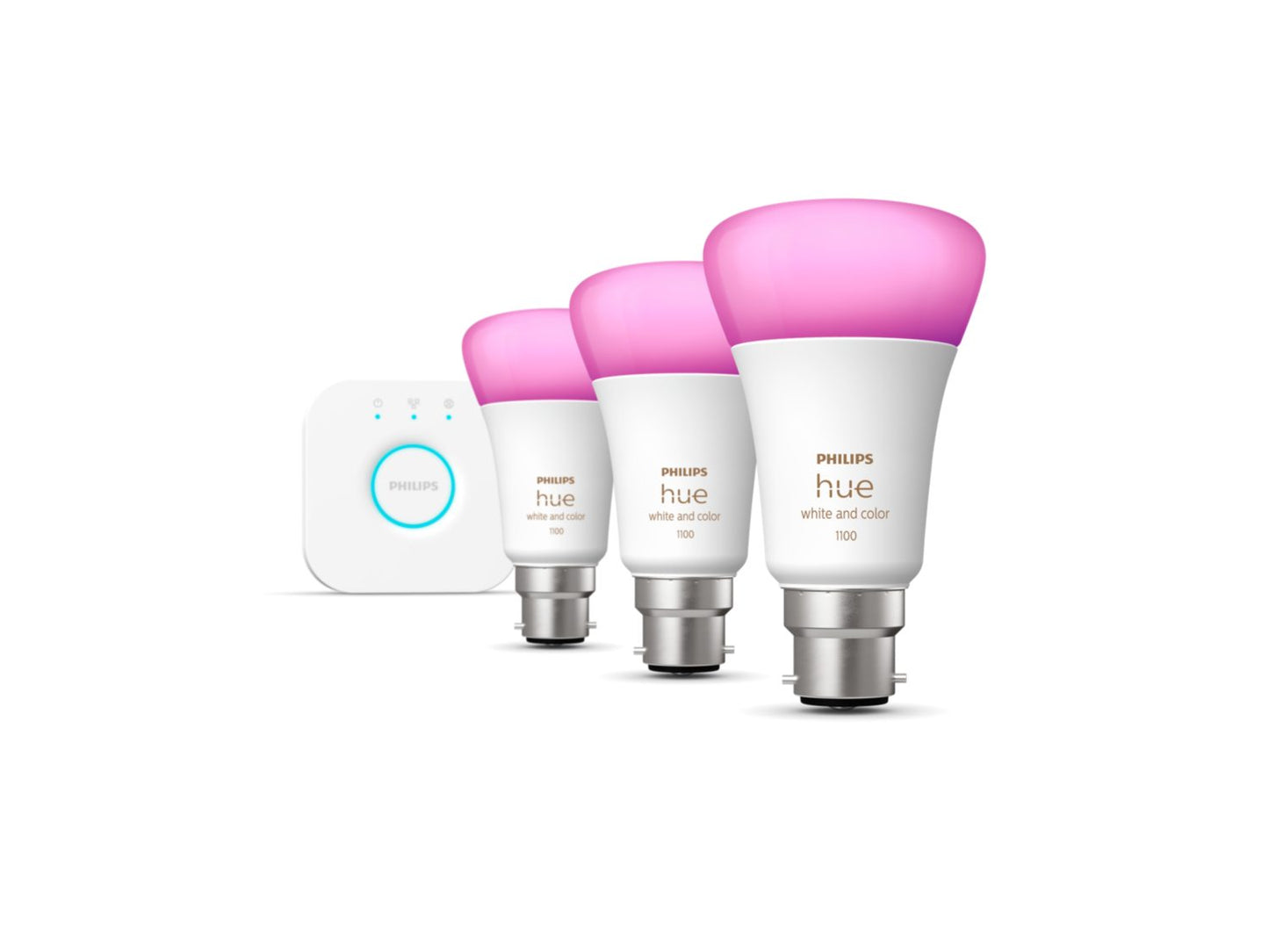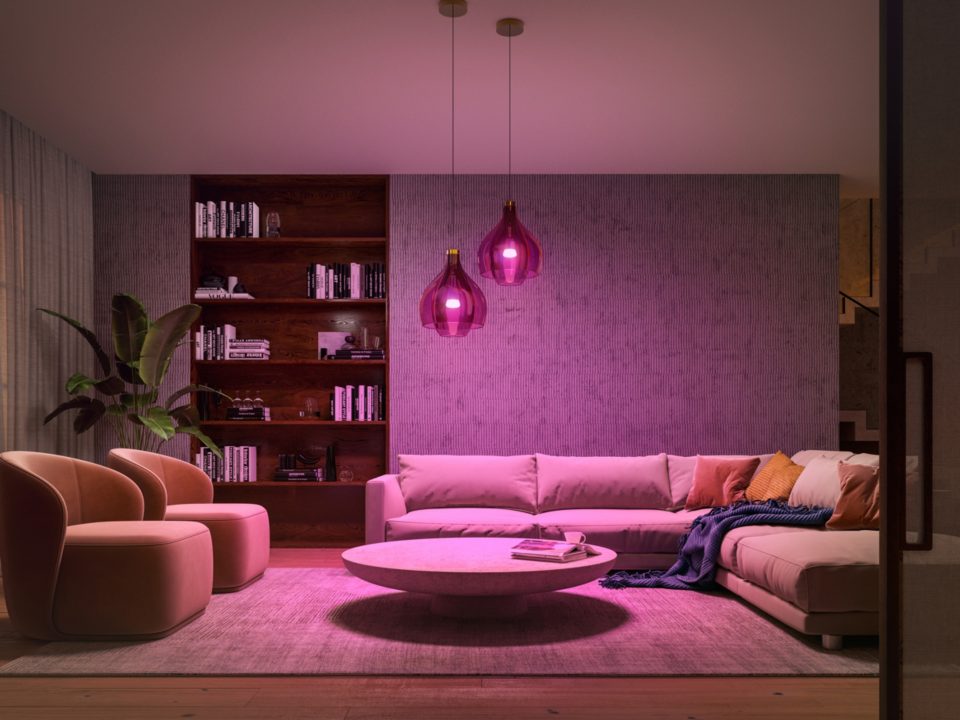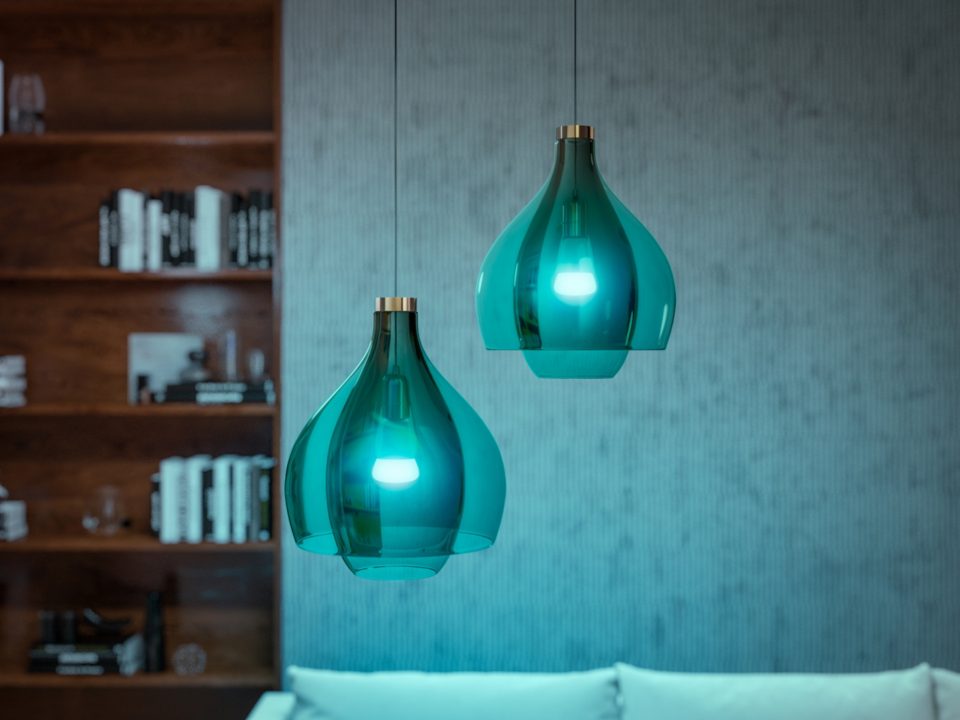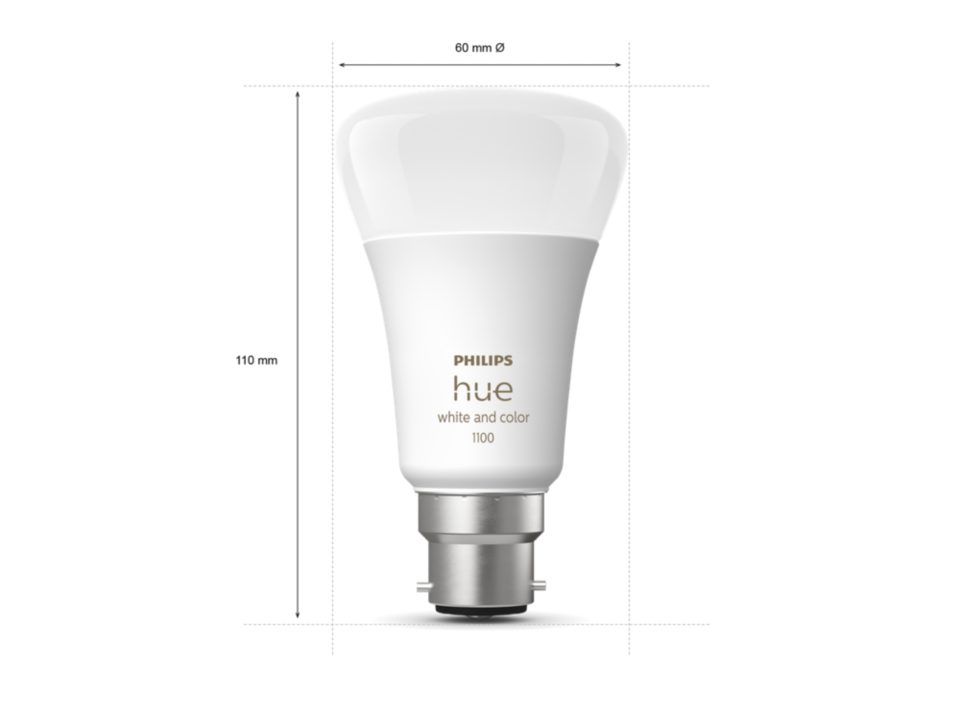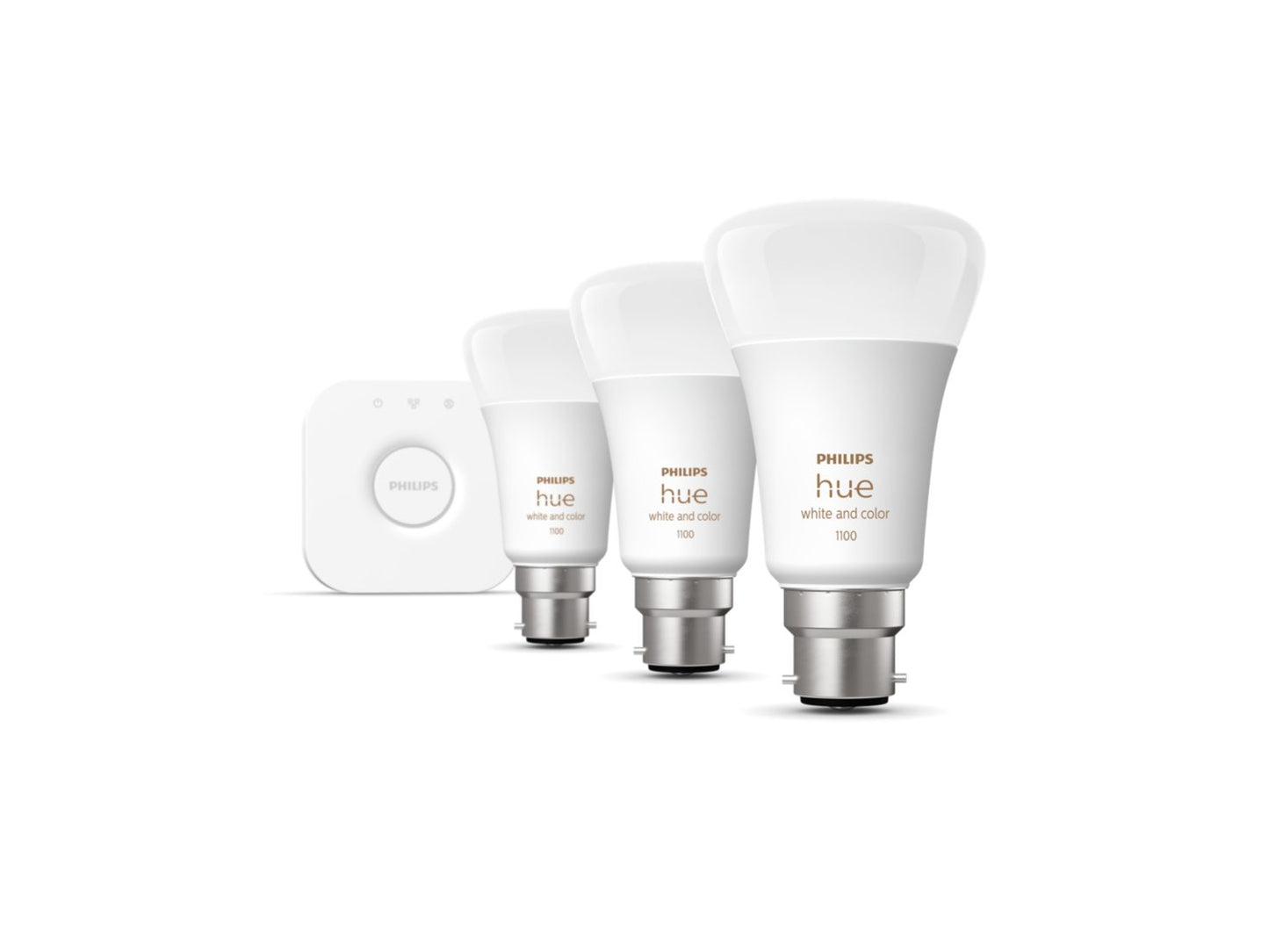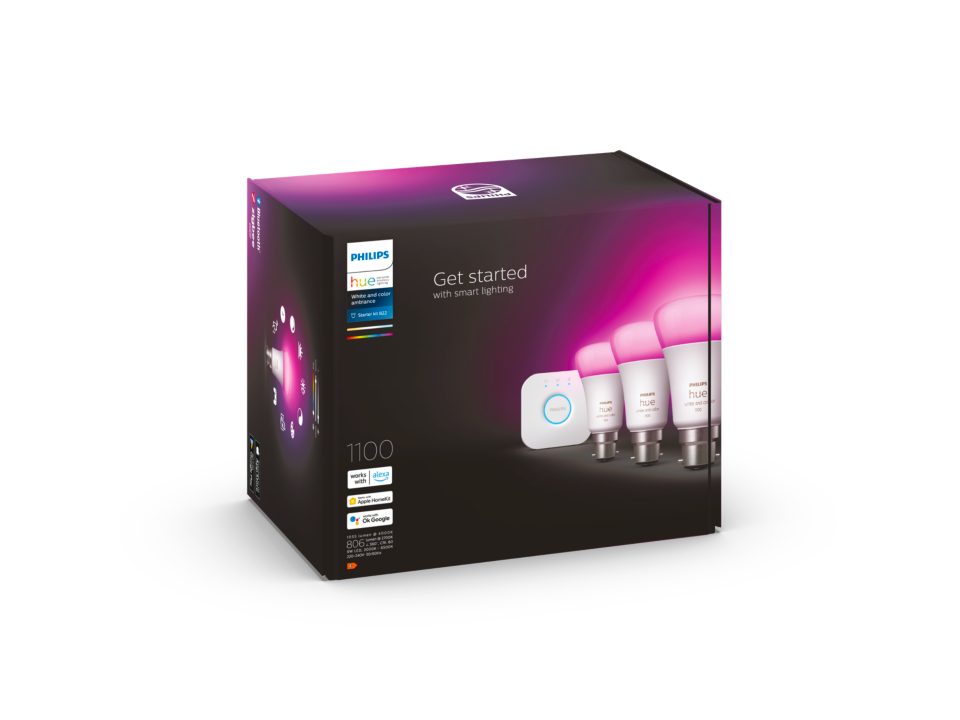 How to connect Hue Outdoor lights
Connecting the Philips Hue 24v outdoor lights is a simple DIY task that is easy, safe and has great results. 
Stock and availability
You can shop with confidence as we are proud to hold large stock levels.
To make things simple if you can add it to cart, it means we have it in our warehouse can ship it to you immediately.
Please note that some items may ship via road rather than air, if this is the case it will be listed on the product description above.
Our Promise
Expert 5 Star Service for Hue

If your looking for advice on Philips Hue you can speak to one of our experts, all of which have hue installed in their homes and have tested all of the range. Our reviews prove why we are the place to go for your smart lighting needs.

Express Delivery

Its important to us that your order arrives as quickly as possible. You can shop with confidence that if you can add it to cart, we have in our warehouse and we will use only the best couriers to get it to you as quickly as possible.

Genuine Australian Stock

We understand that you want to get your lighting project finished as quickly as possible so we hold large / bulk quantities of genuine Australian stock in our own warehouse to make sure you can complete whatever you want without any delay.