Philips Hue Adore Bathroom Mirror Light - White
White Ambiance
How do outdoor lights work
With the Philips Hue White ambiance Adore lighted mirror you can enjoy a beautiful light effect that prevents unwanted shadows. Use the dimmer switch to easily set the right light to help you energise, concentrate, read and relax.
2400 Lumens
Requires Electrican
Requires Hue Bridge

Clearance
In-Stock, Ready to Ship
Regular price
Sale price
$248.00
FREE Delivery

RRP $419.95
Unit price
per
Perfectly suited for your bathroom
This Philips bathroom light is especially designed for humid environments. It was tested rigorously to ensure its water resistance. The IP level is described by two figures: the first one refers to the protection level against dust, the second against water. This bathroom light is designed with IP44: it is protected against splashing water, this product is most common and ideal for bathroom use.
Read
Use the time in the bath to pick up your favourite magazine. Set the right white light for a perfect read.
Energize
Skip your morning coffee and get ready for the day with cool white daylight that helps to energize your body and mind. Perfect for those moments when you need that extra kick with your morning shower.
Relax
Immerse yourself in the bubbles of your bath and recline to the soft glow of white light. Relaxing white light will help you to unwind in the evening and sleep better at night.
Easy and wireless control with the dimmer switch
With the ready-to-use wireless Philips Hue Dimmer switch, you can brighten and dim your lights without a wired-in installation
Concentrate
Early morning hours call for precision and concentration. With finely tuned bright white light you can go through your morning rituals with ease, whether it is to give your make up that perfect finish, or groom your beard neatly.
Full control from smart device with Hue bridge
Connect your Philips Hue lights with the bridge to unlock the endless possibilities of the system.
Features

- Design for Bathrooms
- Dimmer switch included
- LED integrated
- White
- Smart control with Hue bridge*
- Winner of the IF Design Award in 2019
Specifications

- Design and finishing: white
- Material: Metal & Glass mirror
- Especially designed for: Bathroom
- Style: Modern
- Type: Wall light
- EyeComfort: Yes
- Service Warranty: 2 year(s)
- Lifetime up to: 30,000 h
- Light source equivalent to traditional bulb of: 204 W
- Total lumen output fixture: 2400 lm
- Bulb technology: 24 V
- Light color: 2200-6500 Hue White Ambiance
- Mains power: 50-60 Hz
- Fixture dimmable: Yes
- Wattage: 40 W
- IP code: IP44
- Class of protection: II - double insulated
Dimensions & Weight

Height: 56 cm

Width: 56 cm

Depth: 5.1 cm

Weight: 5.44 kg
Whats in the box

1x Hue Bathroom Adore Mirror
Part number: 8718696168028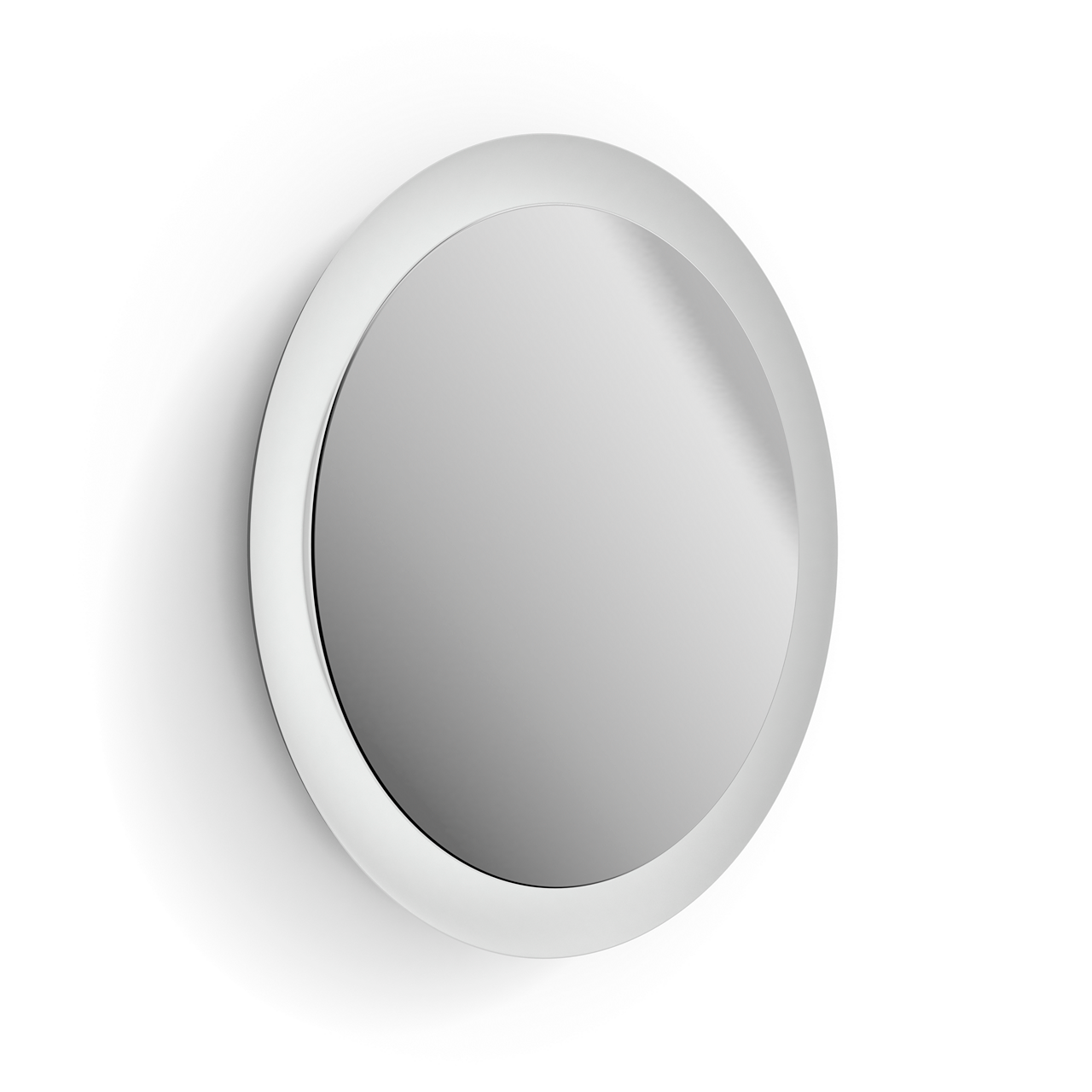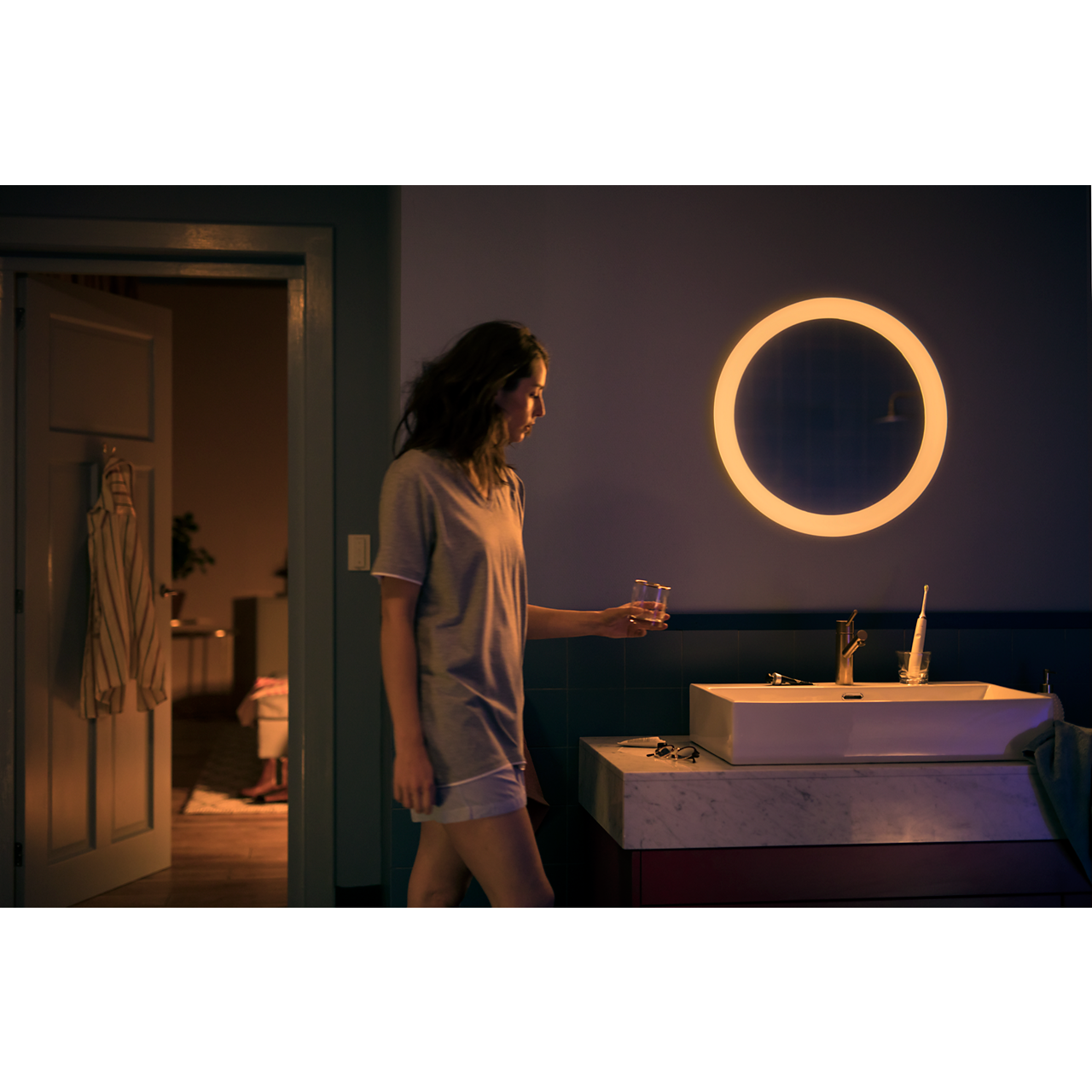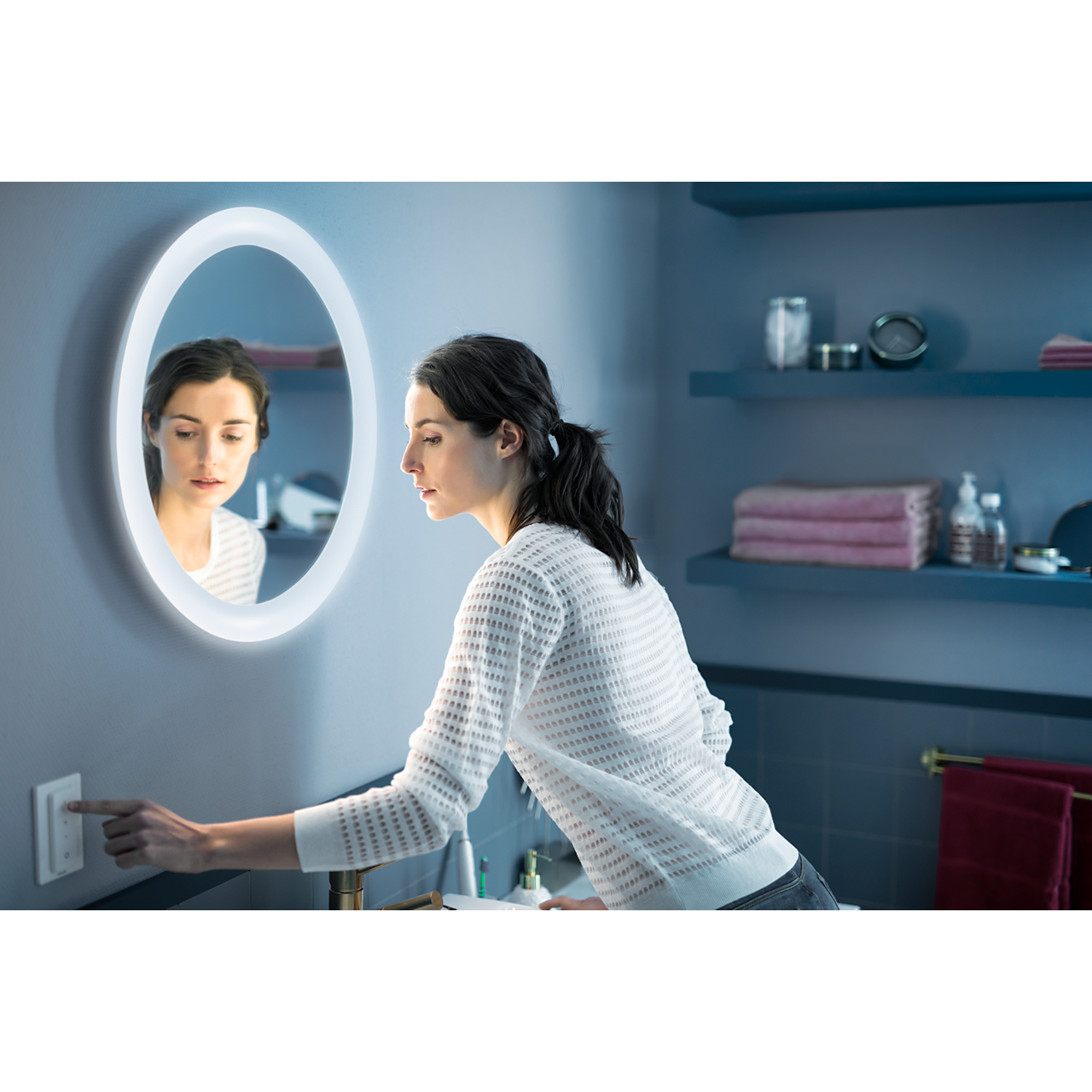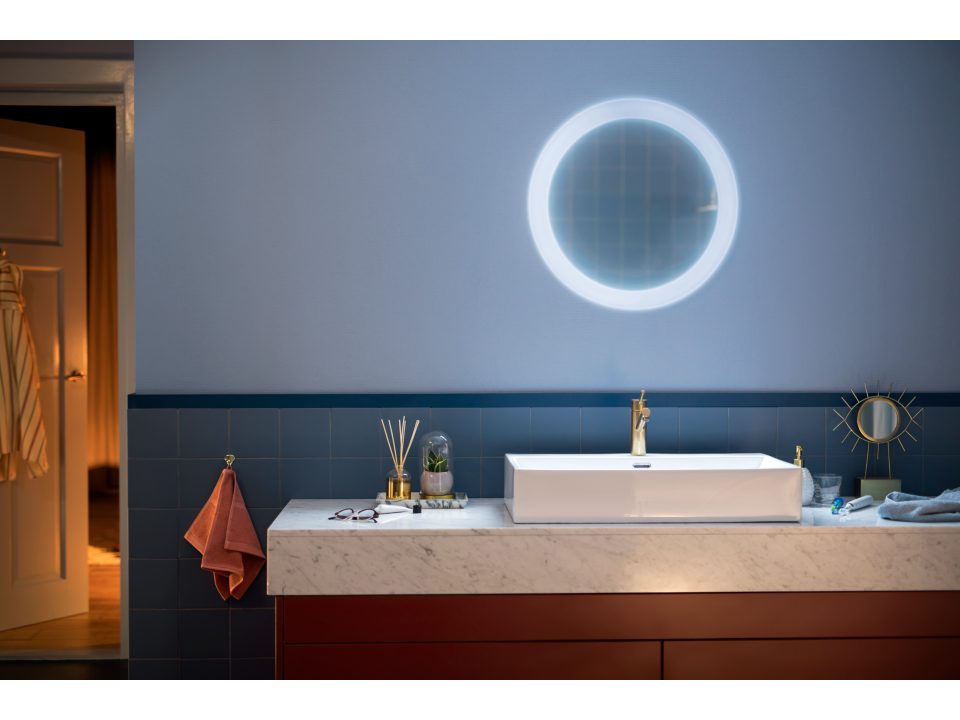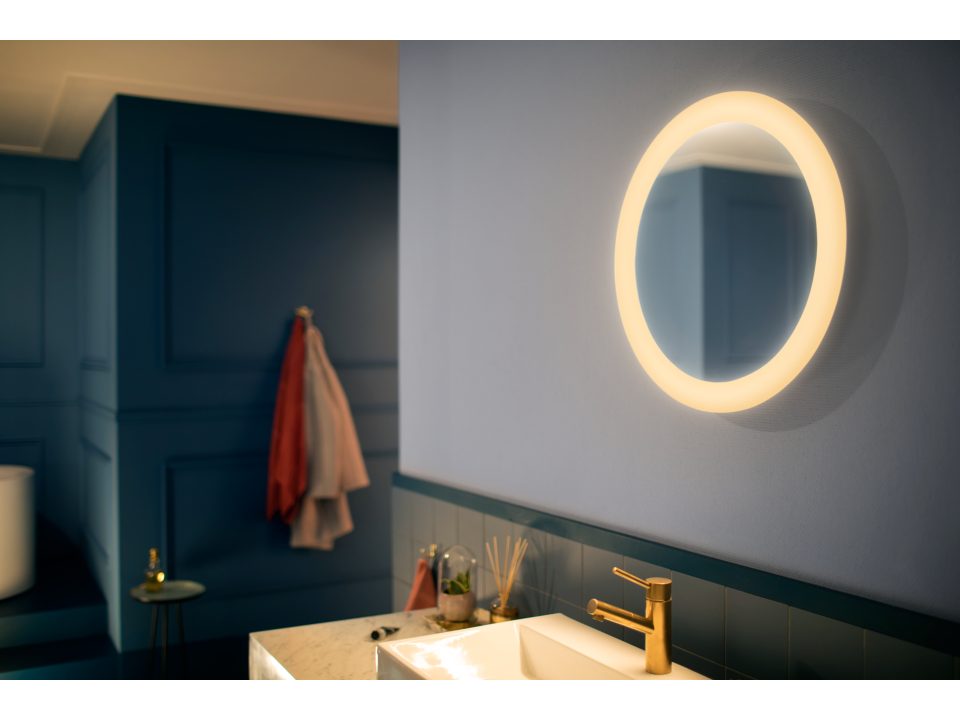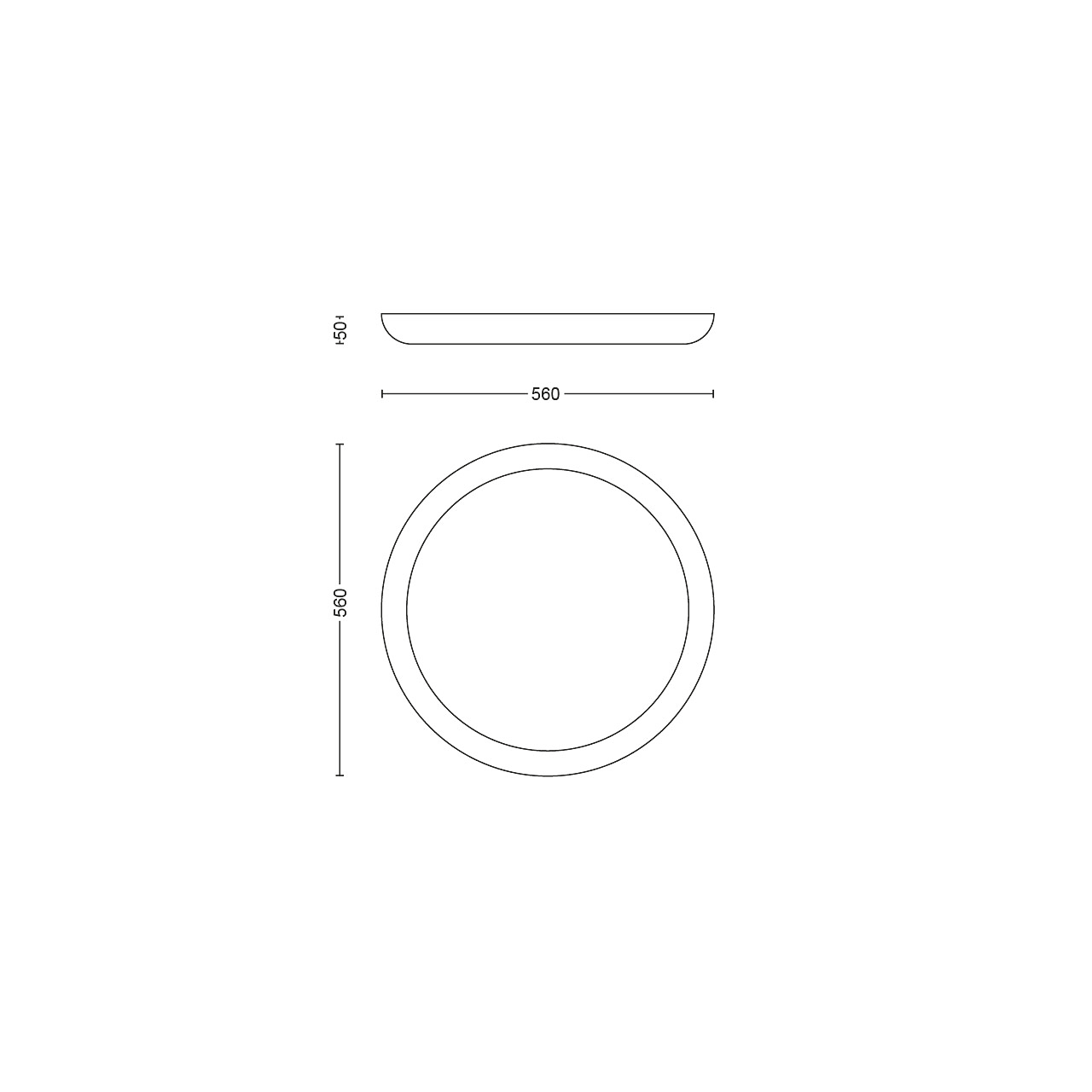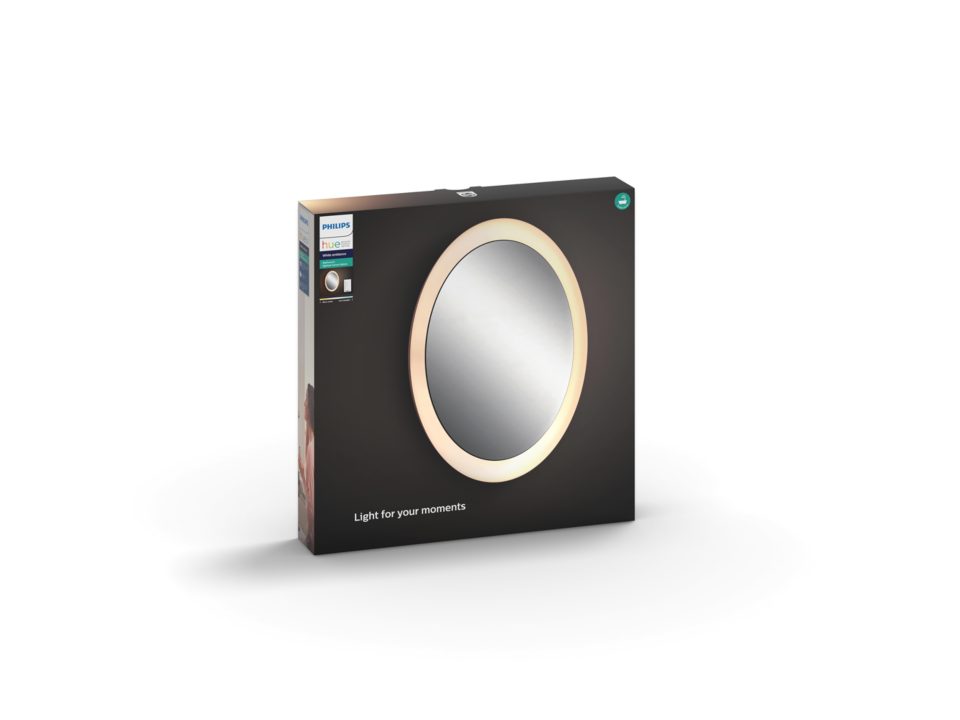 How to connect Hue Outdoor lights
Connecting the Philips Hue 24v outdoor lights is a simple DIY task that is easy, safe and has great results. 
Stock and availability
You can shop with confidence as we are proud to hold large stock levels.
To make things simple if you can add it to cart, it means we have it in our warehouse can ship it to you immediately.
Please note that some items may ship via road rather than air, if this is the case it will be listed on the product description above.
Our Promise
Expert 5 Star Service for Hue

If your looking for advice on Philips Hue you can speak to one of our experts, all of which have hue installed in their homes and have tested all of the range. Our reviews prove why we are the place to go for your smart lighting needs.

Express Delivery

Its important to us that your order arrives as quickly as possible. You can shop with confidence that if you can add it to cart, we have in our warehouse and we will use only the best couriers to get it to you as quickly as possible.

Genuine Australian Stock

We understand that you want to get your lighting project finished as quickly as possible so we hold large / bulk quantities of genuine Australian stock in our own warehouse to make sure you can complete whatever you want without any delay.