Philips Hue Impress Pedestal Light - Base
White & Colour Ambiance
How do outdoor lights work
Enjoy 16 million colors available to enhance the beauty of your yard or use it more functional for path lighting.
Requires Hue Bridge
40 Watt power supply included
Draws 8 Watts from power supply

Clearance
In-Stock, Ready to Ship
Regular price
Sale price
$245.00
FREE Delivery

RRP $359.95
Unit price
per
Special light for special occasions

Holiday cheer starts here — with smart light! Use your Philips Hue lights to transform your home into a festive experience: bright reds and greens for Christmas, subtle pastels for spring, or even an eerie purple glow to create the most haunted house on the block on Halloween.
Unwind with warm to cool white light
Extend your evenings with Philips Hue outdoor lighting. Set the right ambiance on your patio, balcony or porch and relax. From the warm white light of a summer sun, to the ice cool daylight of winter: you can enjoy any shade of white light to fit your mood throughout the year.
Control it your way
Connect your Philips Hue lights with the Bridge and start discovering the endless possibilities. Control your lights from your smartphone or tablet via the Philips Hue app, or add the indoor switches to your system to change your lights. Set timers, notifications, alarms, and more for the full Philips Hue experience. Philips Hue even works with Amazon Alexa, Apple Homekit and the Google Assistant to allow you to control your lights with your voice.
Paint your outdoors with 16 million colours
With Philips Hue outdoor lighting there's no limit to the magic you can add. Connect your Philips Hue lights with the Bridge to control your lights from your smart phone or tablet via the Philips Hue app. Or control your Philips Hue lights with the Philips Hue dimmer indoor switch for on/off and dimming functionalities.


High-quality aluminium and tempered glass
The products are made specifically for outdoor use. We are using high-quality aluminium and tempered glass to ensure the best performance in the outdoor conditions. As well as smart use of materials to optimize radio frequency.
High light output
This Philips Hue light provides you with enough output to light up your garden comfortably. Use this Philips Hue light to help you light up your entrances, create more ambiance and bring your outdoors to the next level by setting the scene for your moment.
Set your lights to welcome you home
Experience the comfort of your lights turning on automatically when you arrive and turning off when you leave. Unload your car, enter your house, all with the comfort of the right light. Either use the Philips Hue outdoor sensor, or set the Hue app to Home or Away mode to switch on all your lights, or let geolocation do it for you, all without touching a button. It's as easy as that.
Weather-proof (IP44)
This Philips Hue outdoor fixture is specially designed for use in outdoor environments and has undergone rigorous tests to ensure its performance. The IP level is described by two figures: the first one refers to the protection level against dust, the second against water. This lamp is designed with IP44: it is protected against water splashed from any direction. This product is most common and ideal for general outdoor use
Easy to install and extend
Brighten up dark paths, create highlights in your landscaping, or create a unique ambiance on the patio. You can do it yourself, using Hue spots or bollards. The products are based on low voltage, safe to use and easy to install. No more complexity to get lighting outdoors: go create and extend as you like.
Features

- LED integrated
- White and color light
- Low Volt system - base unit
- Smart control with Hue bridge
- Set timers and schedules
Specifications

- Lifetime up to - 25,000 h
- Light source equivalent to traditional bulb of - 49 W
- Total lumen output fixture - 1200 lm
- Bulb technology - 24 V
- Light Colour - 2000-6500 Hue white colour ambiance
- Mains power - 50-60 Hz
- Energy class included light source- Built in LED
- Number of LEDs- 2
- Wattage bulb included - 8 W
- IP code - IP44
- Class of protection - II - double insulated
- 40 Watt power supply included
Dimensions & Weight

Height: 40 cm

Width: 10 cm

Depth: 10 cm

Weight: 2.76 kg
Whats in the box

1x Impress pedestal light
1x Spike mount
1x 5m Connector cable
1x 40w Power supply
Part number: 8718696174449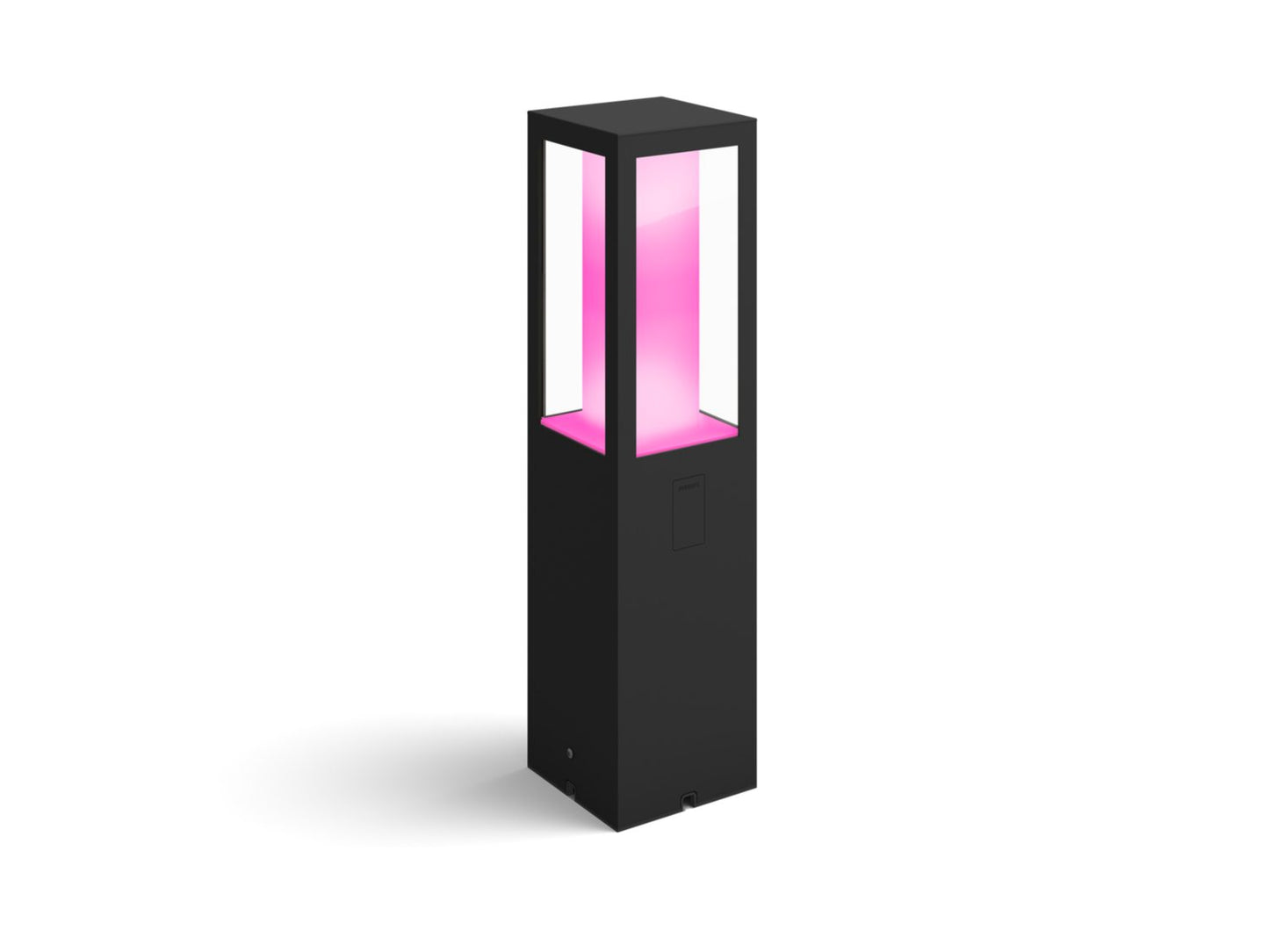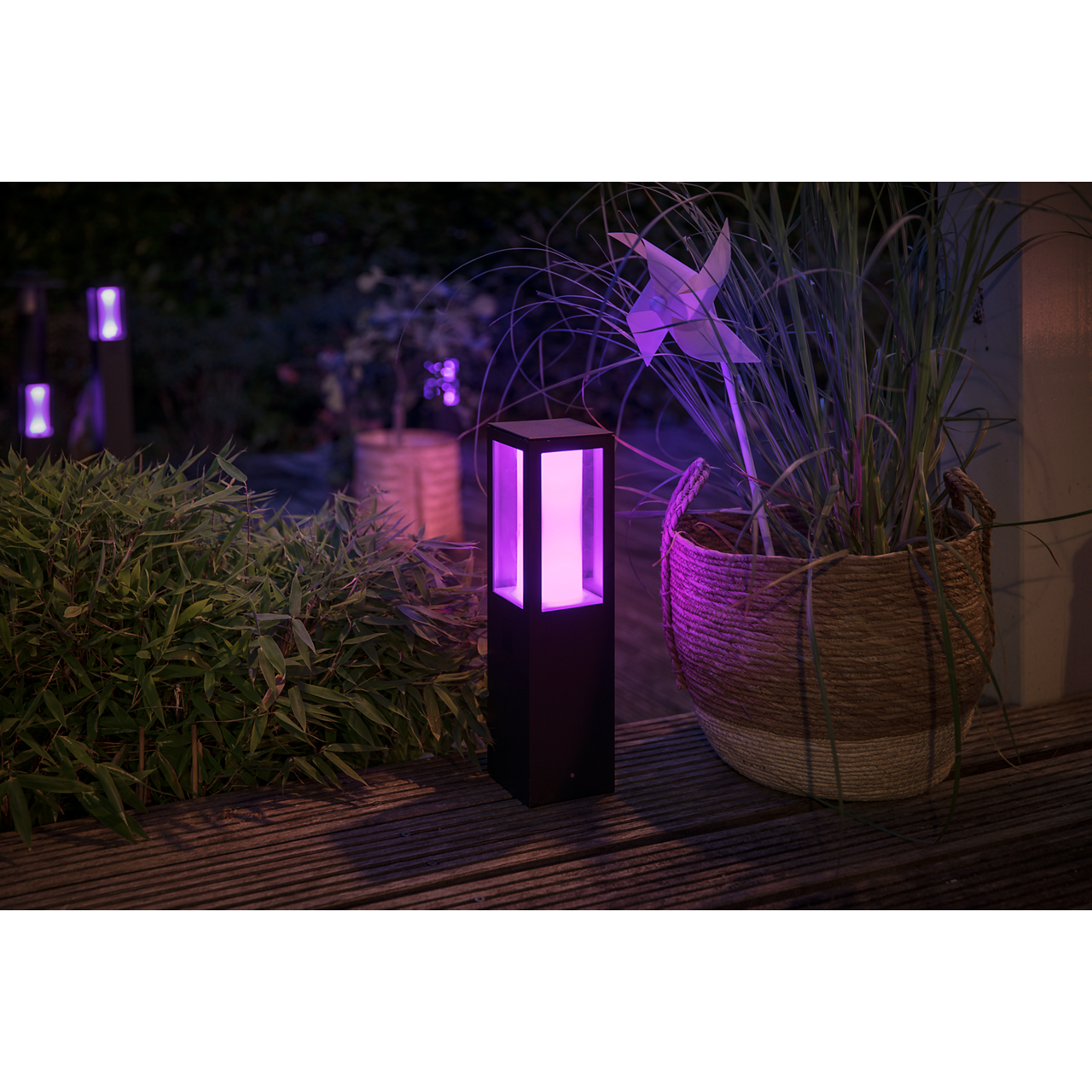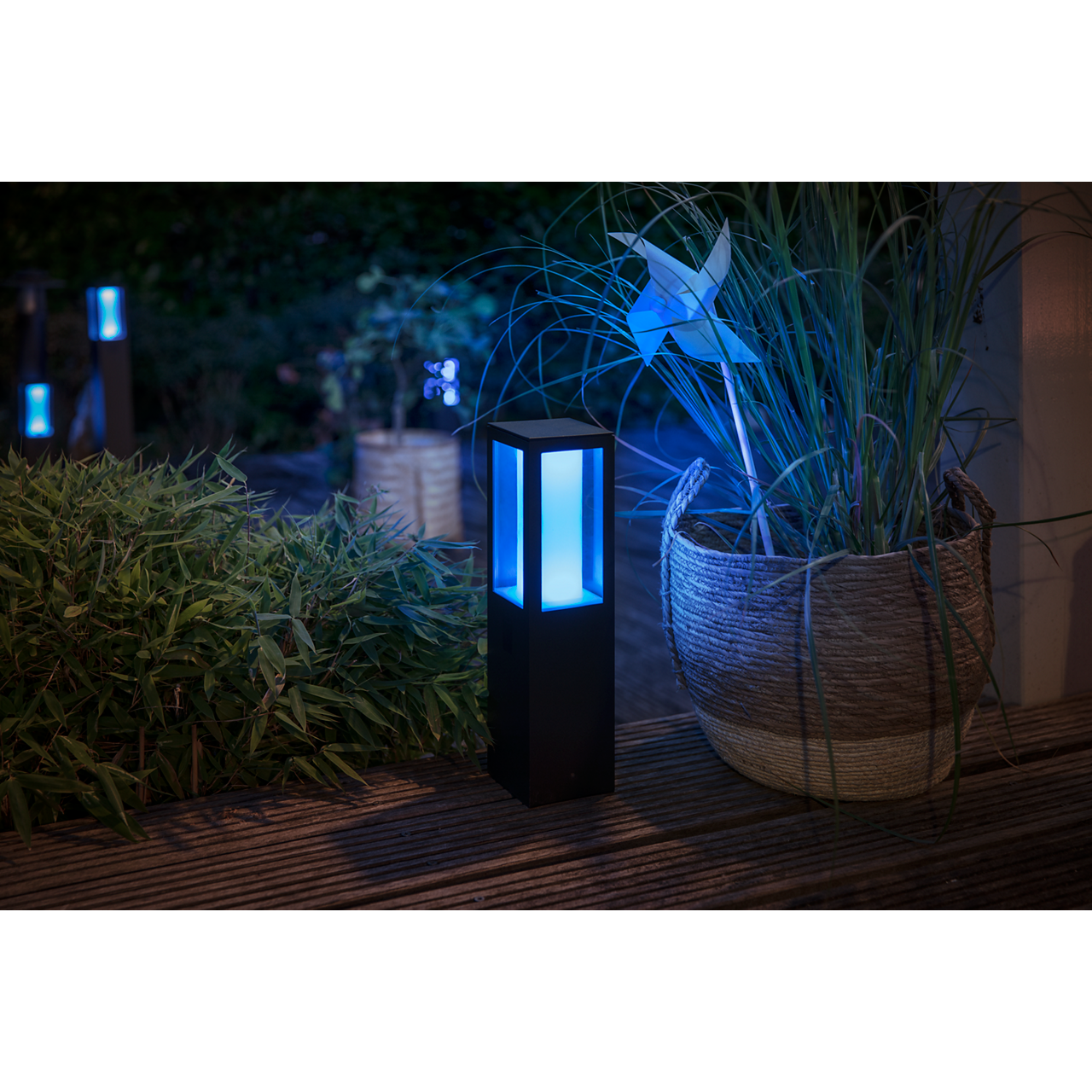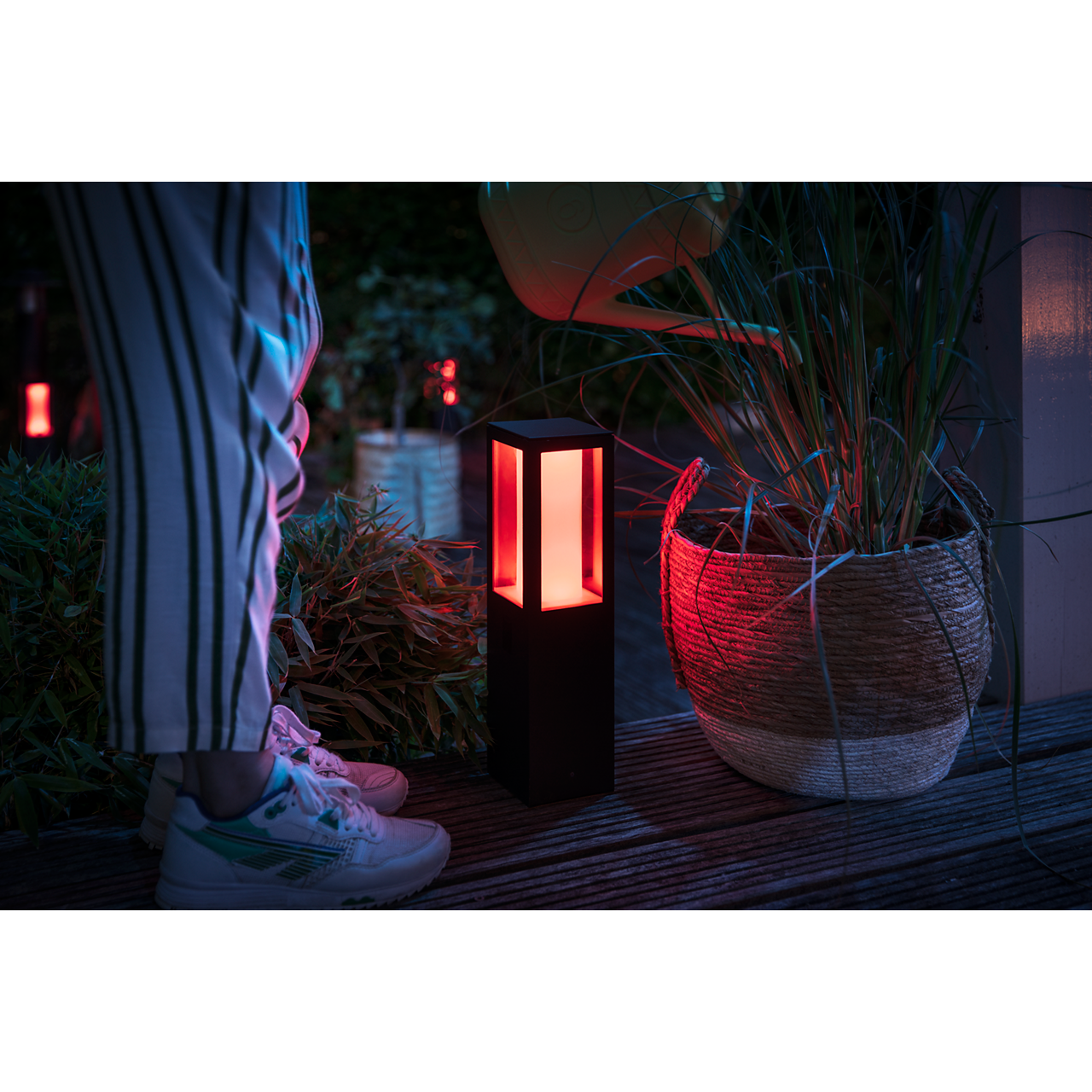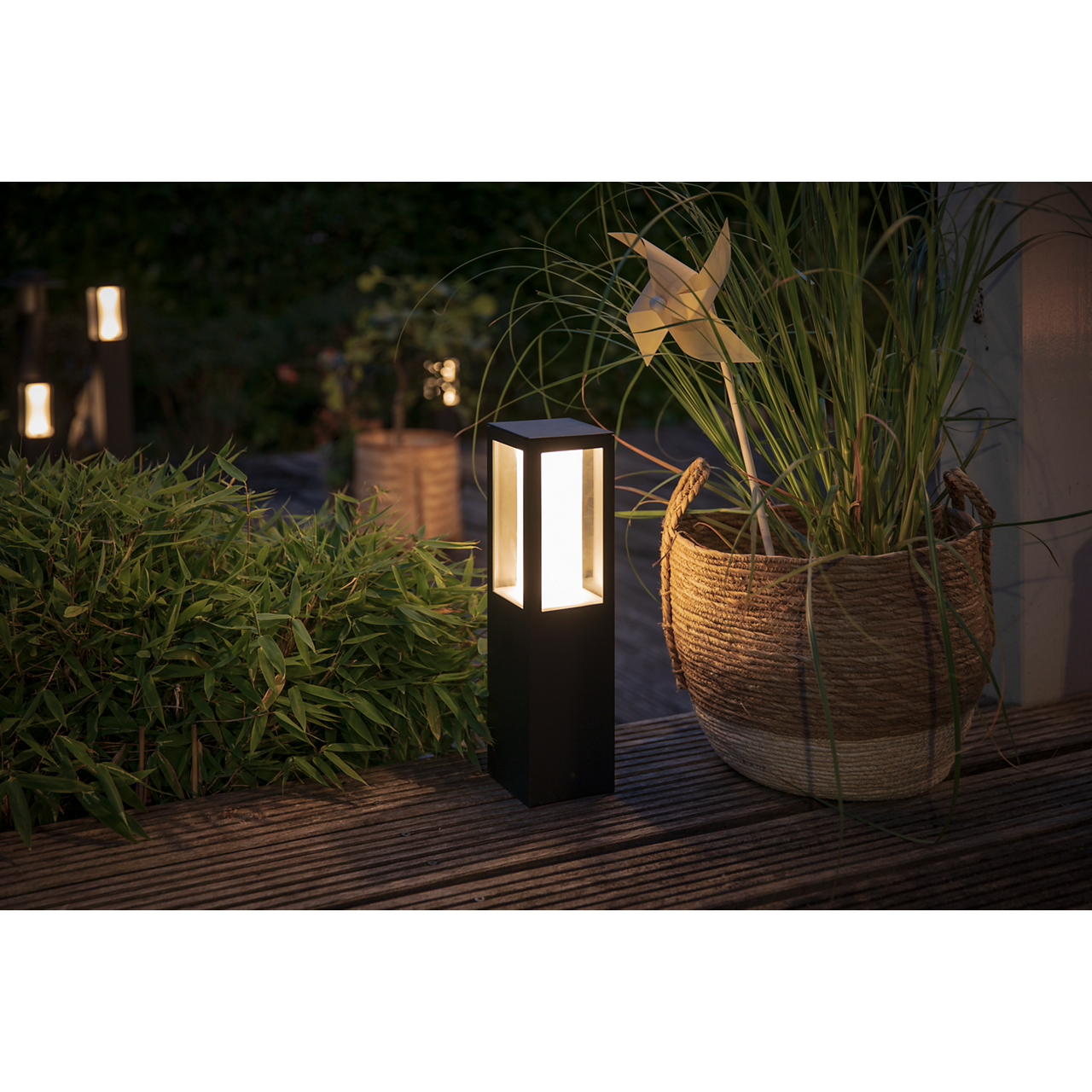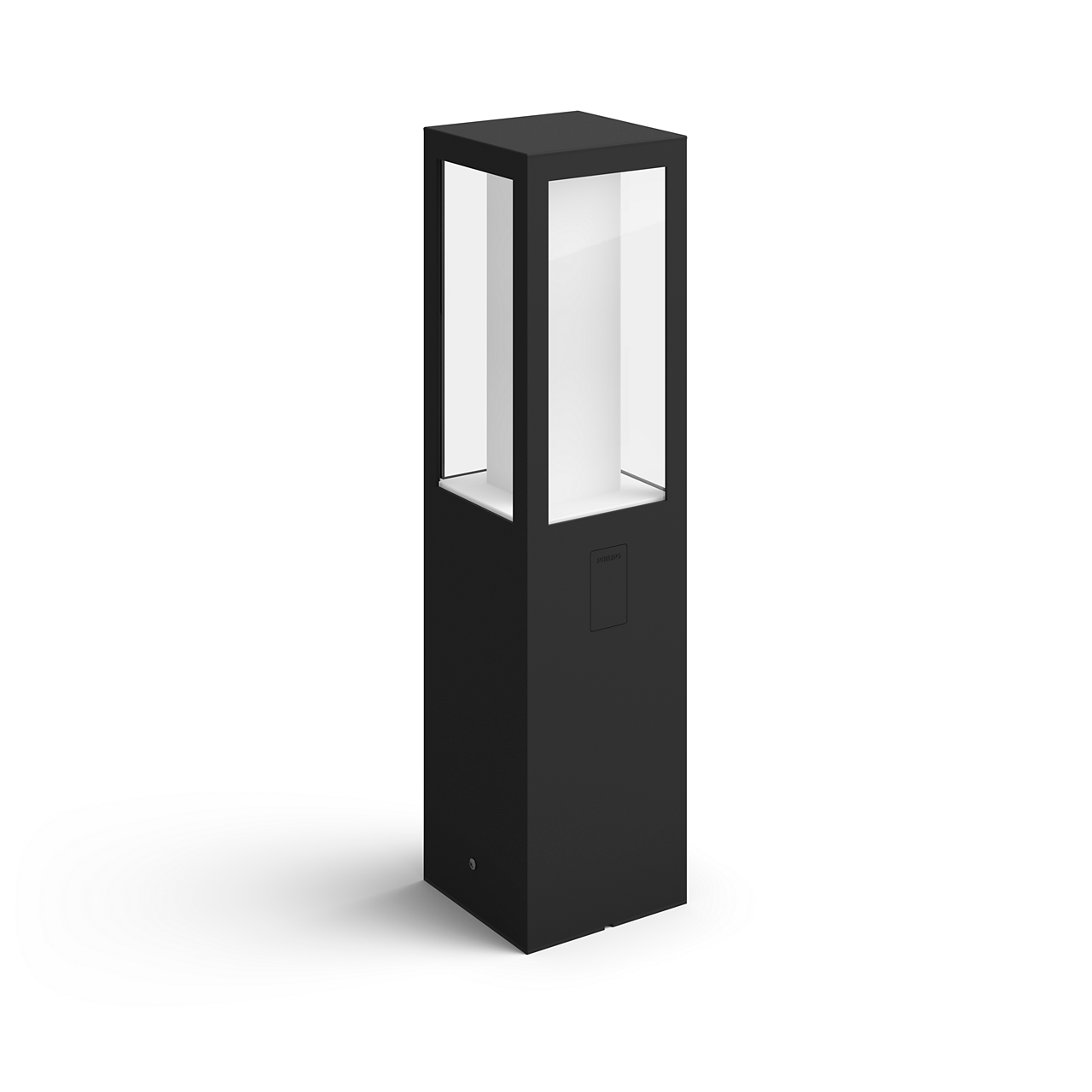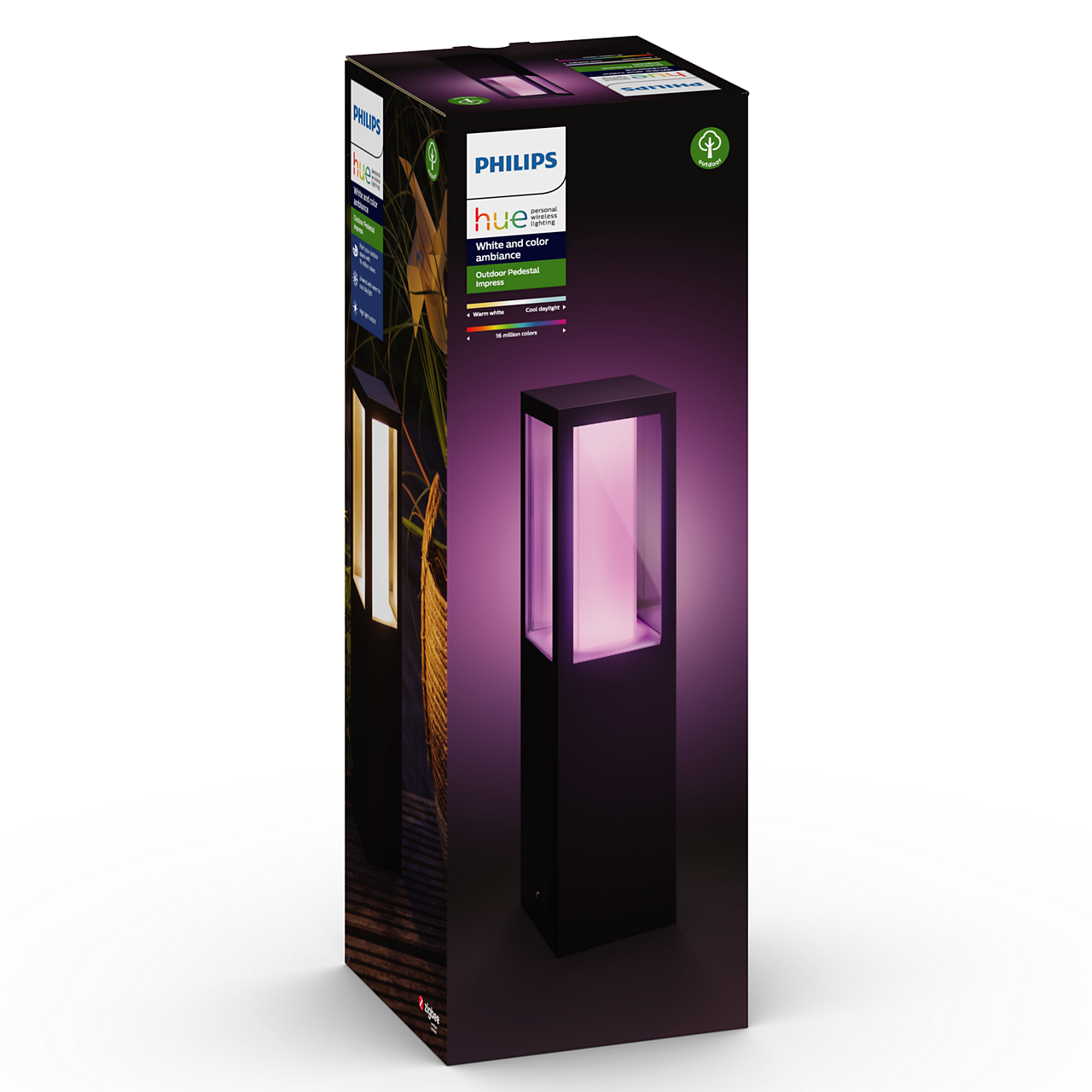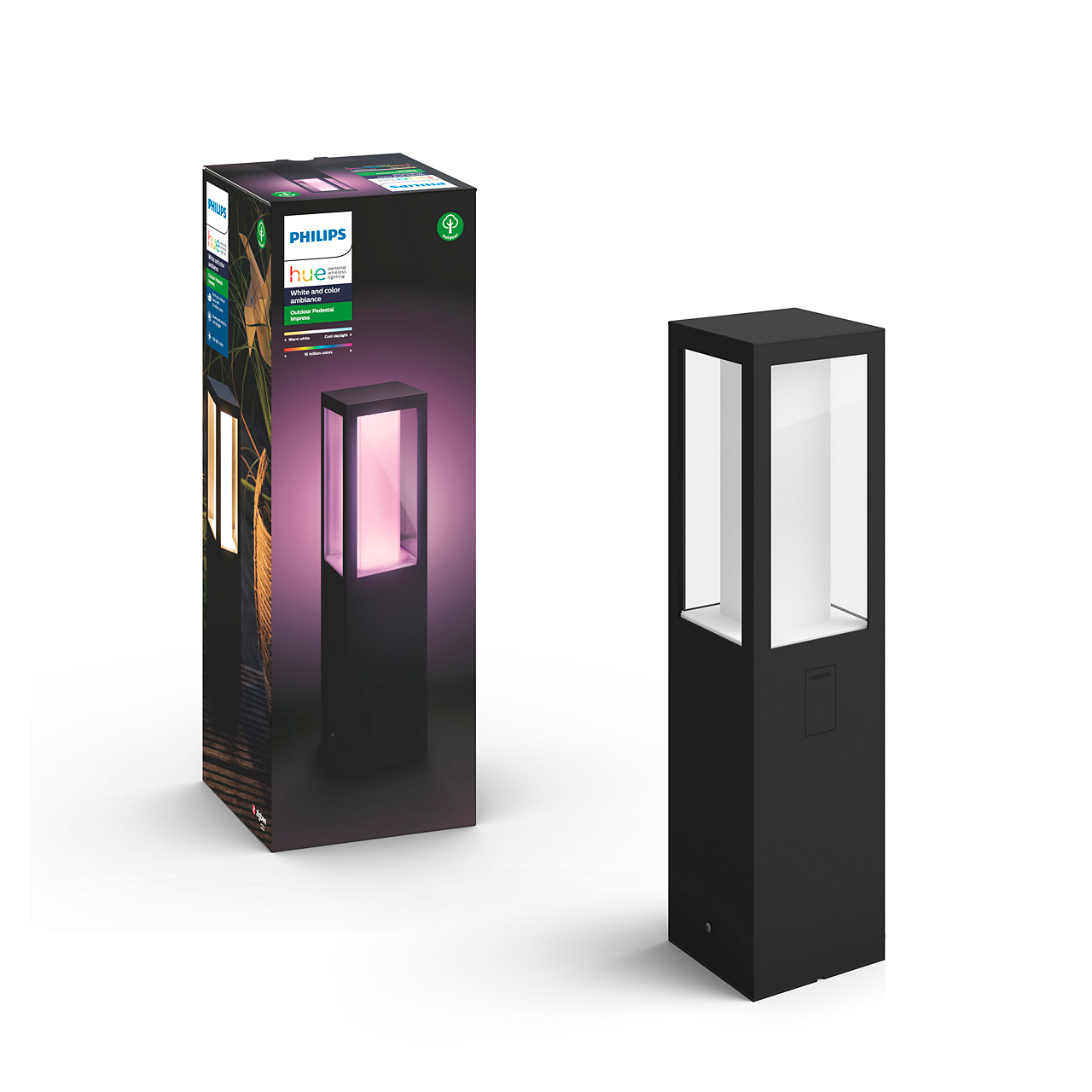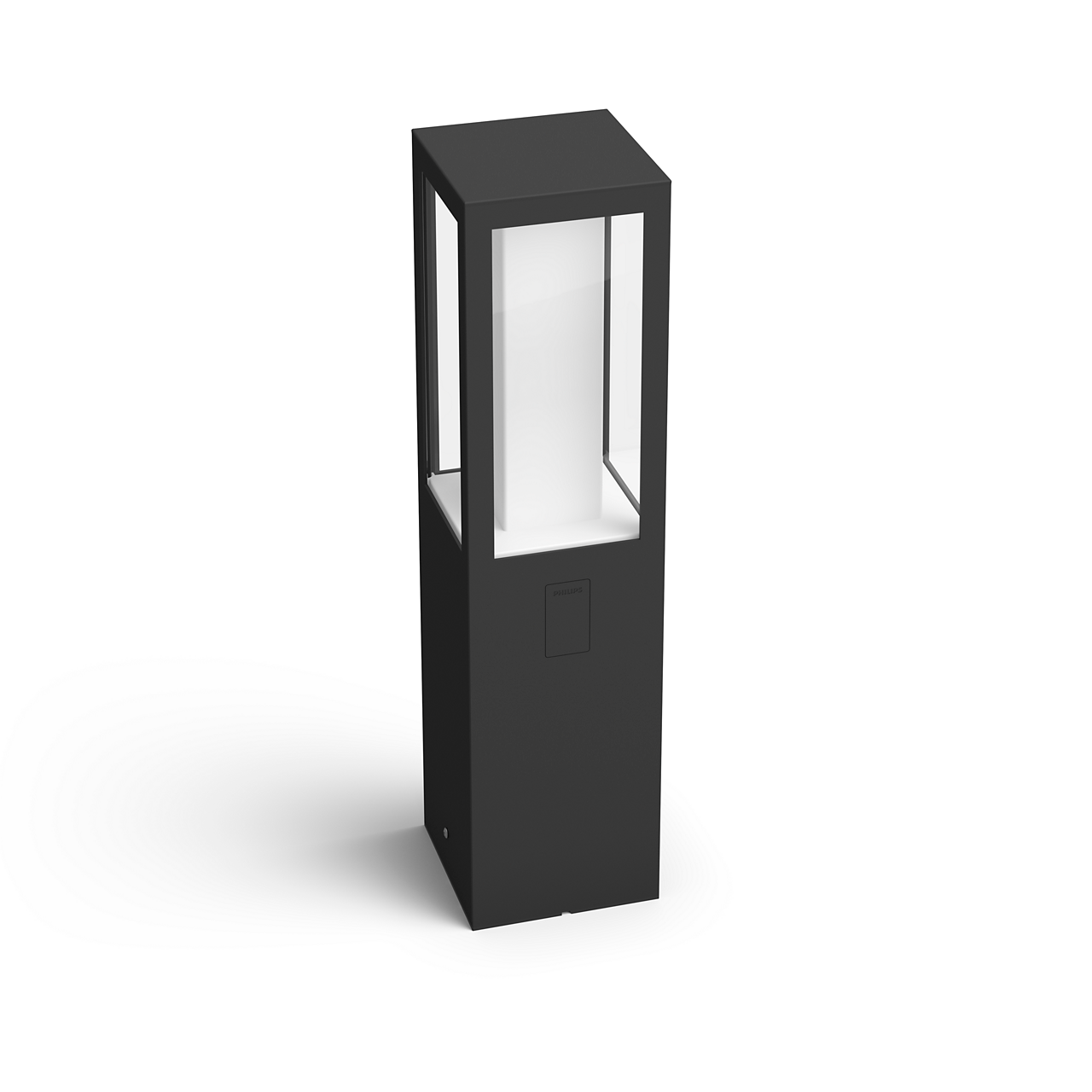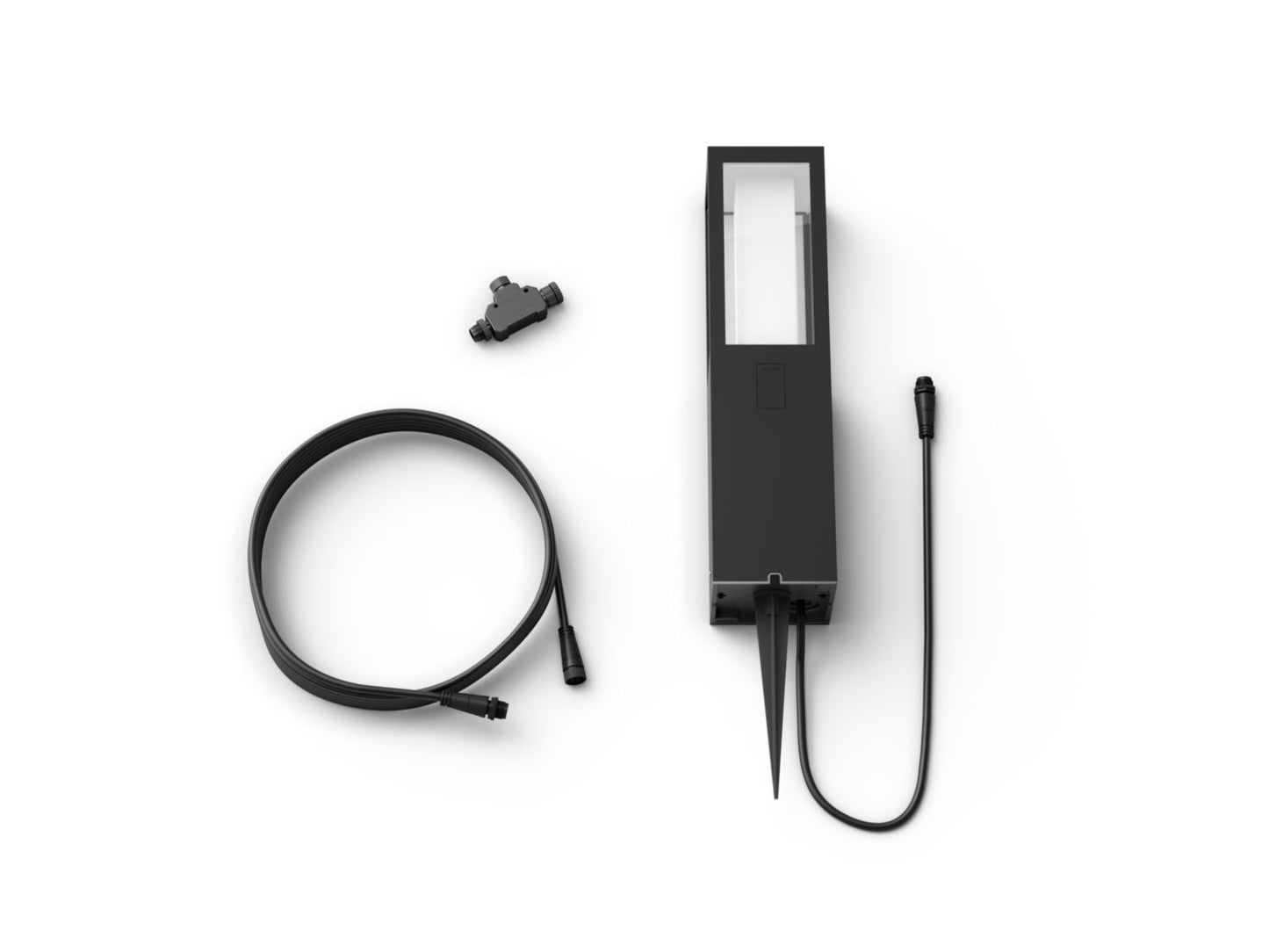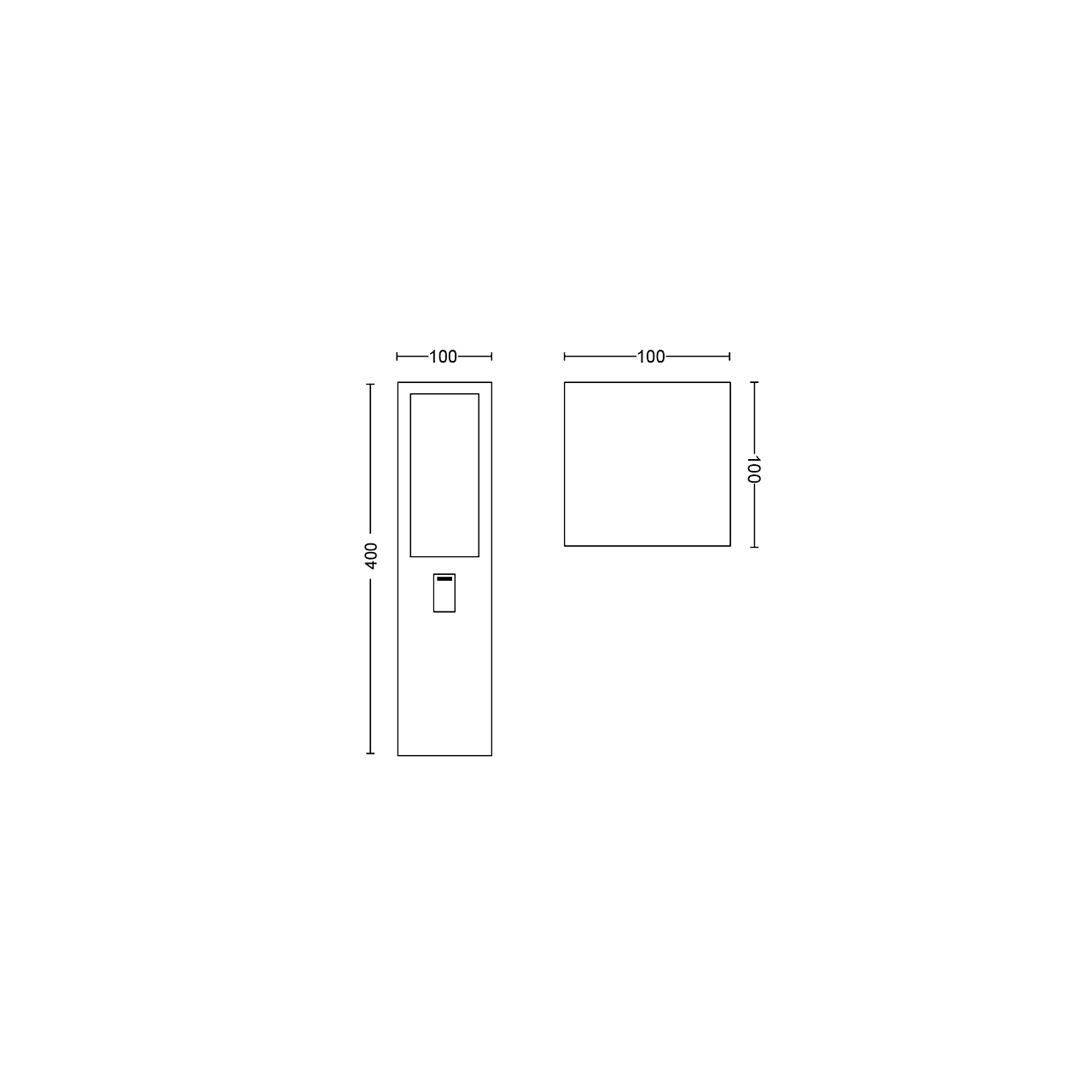 How to connect Hue Outdoor lights
Connecting the Philips Hue 24v outdoor lights is a simple DIY task that is easy, safe and has great results. 
Stock and availability
You can shop with confidence as we are proud to hold large stock levels.
To make things simple if you can add it to cart, it means we have it in our warehouse can ship it to you immediately.
Please note that some items may ship via road rather than air, if this is the case it will be listed on the product description above.
Our Promise
Expert 5 Star Service for Hue

If your looking for advice on Philips Hue you can speak to one of our experts, all of which have hue installed in their homes and have tested all of the range. Our reviews prove why we are the place to go for your smart lighting needs.

Express Delivery

Its important to us that your order arrives as quickly as possible. You can shop with confidence that if you can add it to cart, we have in our warehouse and we will use only the best couriers to get it to you as quickly as possible.

Genuine Australian Stock

We understand that you want to get your lighting project finished as quickly as possible so we hold large / bulk quantities of genuine Australian stock in our own warehouse to make sure you can complete whatever you want without any delay.