Philips Hue Play HDMI Sync Box
How do outdoor lights work
Sync your smart lights to the content on your TV screen with the Philips Hue Play HDMI Sync Box. Four HDMI ports allow you to connect your media devices to your Hue setup, resulting in a fast, seamless display of colorful smart light that responds to and reflects the content you watch or listen to.
In-Stock, Ready to Ship
Regular price
Sale price
$474.00
FREE Delivery

RRP $499.95
Unit price
per
The total media immersion experience
It looks like a black box, but does so much more. The Hue sync box unlocks the full surround lighting experience.
Next-level surround lighting
Sync your films and TV programmes The action of your film and TV programmes directs the lights in your home cinema.
Get in the game
Build a battle station where in-game actions – every explosion, every car chase – is amplified.
Create musical colourscapes
Heighten the music's intensity with a sound-to-light show.
Supports high-quality video
Get a fast and seamless sync experience no matter what high-quality streaming format you use: HDR10+, 4K or Dolby Vision.
Add up to 4 HDMI devices
Connect your media devices – set-top boxes, gaming consoles, streaming sticks and more – to the Hue sync box, which automatically detects which input is actively playing and switches to it.
Create an Entertainment area
To use the Hue sync box, create an Entertainment area in the Hue app: create a virtual version of your room and sync up to 10 Philips Hue colour-capable lights.
Features

- Take your home theatre to the next level
- Sync lights to any HDMI device
- Seamless light syncing
- Easy to install yourself
- Philips Hue Bridge required
- Supports Dolby Vision, HDR10+, 4K
- Adjust intensity & brightness
Specifications

- Color: black
- Material: synthetic & metal
- Adapter voltage: 24 V
- Standby power consumption: 1 W
- Maximum power consumption: 7 W
- Service Warranty: 2 year(s)
- Lifetime: 10000 hrs
- Class of protection: II - double insulated
- Voice assistants supported: Amazon Alexa, Google Assistant
- Ports: 4 HDMI
- IR receiver: Yes
- WiFi: 802.11 b/g/n/ 2.4 GHz
- HDMI: 2.0b with HDCP 2.2
- Video resolution: 4K 60Hz; 1080p & 1440p 120Hz; - HDR10+ & Dolby Vision.
- CEC: Yes
Dimensions & Weight

Height: 2.3 cm

Width: 18.2 cm

Depth: 9.9 cm

Weight: 0.46 kg
Whats in the box

1x Power adapter
1x HDMI Sync Box
1x HDMI cable
Part number: 8718699707248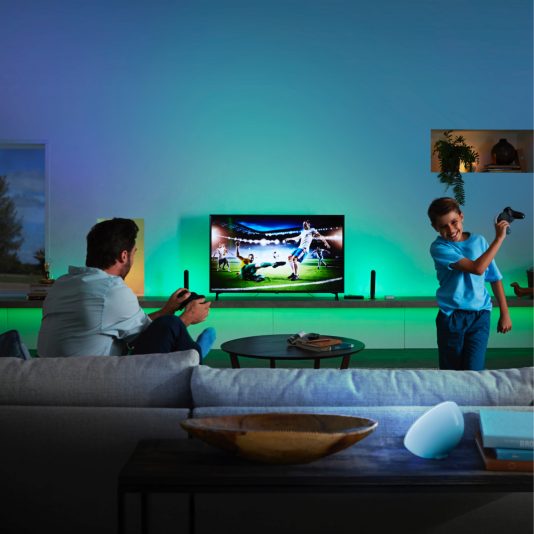 How to connect Hue Outdoor lights
Connecting the Philips Hue 24v outdoor lights is a simple DIY task that is easy, safe and has great results. 
Stock and availability
You can shop with confidence as we are proud to hold large stock levels.
To make things simple if you can add it to cart, it means we have it in our warehouse can ship it to you immediately.
Please note that some items may ship via road rather than air, if this is the case it will be listed on the product description above.
Our Promise
Expert 5 Star Service for Hue

If your looking for advice on Philips Hue you can speak to one of our experts, all of which have hue installed in their homes and have tested all of the range. Our reviews prove why we are the place to go for your smart lighting needs.

Express Delivery

Its important to us that your order arrives as quickly as possible. You can shop with confidence that if you can add it to cart, we have in our warehouse and we will use only the best couriers to get it to you as quickly as possible.

Genuine Australian Stock

We understand that you want to get your lighting project finished as quickly as possible so we hold large / bulk quantities of genuine Australian stock in our own warehouse to make sure you can complete whatever you want without any delay.